Field Investigator Gary Mansfield has forwarded the following images and description:
Lon - The UFO file that I am forwarding is the latest documented field case that I have currently been involved with. This object is being reported from the central-southwest Florida area. This specific anomalous object is estimated to be thirty feet long. I and my research personnel have recently applied some new and unique levels of experimental field applications invoking responsive and interactive communications. What we have discovered of late has changed the entire course of our research and field work experiments. Under the theory of harmonic wave response, these atmospheric bioforms appear to be more responsive to specific low-level vibratory and harmonic signal systems. The outcome of these experiments has been interestingly successful. We hope to conclude this project with results that will exemplify some of the strangest interactive behaviors we have witnessed in these bioforms.
Regards,
Gary Mansfield, F.I.
NOTE: Gary has forwarded interesting information and evidence in the past. I hope I'll receive some followup to this case in the near future. Gary, thanks again...Lon
**********
The following reports were received by the MUFON CMS within the past 30 days and are classified as 'entity' cases. These are reports that I have not previously posted and have not been edited:
11/9/2011 - Mexico:
Photographer noticed the object (entity) in a happenstance manner. The object moves about the sky in a small area in a constant "wormlike" manner.
The entity moves about the sky - not as if it is questing for anything - random movements with a sort of intelligence to it.
Appearance has taken place from 11-15 thru 11-20, 2011. This is appearing over the Pacific Ocean just outside of Baja.
The entity appears to be tube shaped, with a glowing mist body. Two red eyes appearing as horizontal slits. Entity observed photographer and moved toward photographer who vacated area immediately.
This entity appears over ocean at a height of approx. 10 degrees, unknown distance from observer.
The observer, once the entity "looked" at her became very upset and fatigued. Not known if related to interaction with entity. Observer has refused to enter into contact again, if in fact contact was established or attempted by the entity.
**********
12/3/2011 - Michigan:
Went out back door of the house to take a smoke break from the Big 10 Football Championship (Michigan State and Wisconsin). While smoking a cigarette, standing on the sidewalk, 10 feet from the house (on the North side of the house), I looked to the West. Approximately 20 ft away, by a large pine tree, was standing this little creature. Oval, black and white, at first thought it was a skunk, but it had two large yellow/green eyes staring at me(approx. 6 inches oval). They almost glowed. It didn't move. It stood about 2 to 3 feet tall. I went back in to finish seeing the football game. Came out, again at approximately 12:15 A.M., after the game, to smoke again and it was gone. It was not a skunk, raccoon, cat, dog, coyote, possum or any other animal. It stood up and stared at me with no movement. First time I have ever, first hand, seen a creature like that.
**********
2/10/2002 - New Mexico:
I was traveling to work early in the morning. noticed light to the passengers side of vehicle. light seemed to be keeping pace with me. coming in closer then out farther, then back in. after watching for a while. I no longer remember anything and found myself 45 mile closer to my destination then the last moments I remember and a hour and a half later in the morning then the last moments I remember.
**********
11/23/2011 - North Carolina:
The witness is husband to a lady that has had sightings, missing time, and found herself standing naked in her living room at 2 AM recently. The husband saw what he described as a being 4 feet tall with long hair. It was in the hallway for 2 seconds looking at him. It then disappeared into a mist.
**********
7/1/1973 - Mississippi:
I was 4 years old and my two brothers were 12 and 14. We were moving some dirt around in the backyard of our home. My brothers remember hearing a screaching sound, which sent them running to the front yard to hopefully see a cool car speeding away. After their disappointment they returned to the back where we noticed, near the same time, a disk shaped ship hovering over the back of our next door neighbors house. I saw the door slide open and a short (3 foot tall) ape-like being walk out onto a narrow catwalk that appeared to encircle the ship. He walked a few steps to my right and kneeled down and opened a small door on the side of the craft. He used a small tool to make some type of adjustment, and closed the small door before returning inside. While he was out, a second being walked to the door and watched him. The second guy was taller, maybe 5 feet. They were both covered in thick brown hair, but well groomed. Both were wearing a coverall but not anything resembeling a space suit like our NASA guys wear. After the door slid back down, the ship started ascending at a slow speed. When it reached about 100 Feet, it ascended almost straight up and out of sight in 1 or 2 seconds. The beings made no audible communication between each other, and didn't pay any attention to the 3 boys silently staring at undoubtable proof of life on other planets. My brothers knew they were looking at alliens, I didn't. I knew I had never seen anything like this before, but I wasn't old enough to know what an allien was. My oldest brother and I remember almost all the details the same, but our middle brother is now schitzofrenic. His recollection is light years away from what really happened.
**********
8/31/2011 - Michigan:
My friend and i were fishing on a local lake. We had been there since 3pm, at 745pm my friend casted out tward shore. I was casting about 30 yards to the right of him. I saw him twitch in the corner of my eye. He quietly said as he was staring tward shore "There's and alien over there" He immediately repeat "there's an alien over there" this time very loudly and began yelling at me to look. As this was happening I heard branches and sticks breaking just behind a few bushes at the edge of shore. I watched the woods in the direction that the sound was moving toward. The noises stopped and maybe ten to fifteen seconds later I saw what appeared to be a person with extremly long arms down to where i saw it's knees bending. A very large head, rounded at the top with a very pronounced chin. It was very skinny, skinny enough that if it was a person they were starving. There was no clothing visible, the legs and arms were also very skinny and no reproductive organs were visible. The way it walked reminded me of the old film of bigfoot almost perfectly. We started leaving the area. There is a small wooded peninsula directly adjacent to the direction that it had walked. as we passed it I was watching the woods closely and saw what appeared to be a face. Rounded at the top and with a pronounced chin it turned to follow our movement passed. It had large oval black eyes with a small mouth, grey skinned, and there was a notable crease running down its forehead. I couldn't see any nose of any kind. once we had passed We did not see it again.
**********
11/12/2011 - North Carolina:
I was out jogging on the 12th as I normally do on the weekends. I decided to jog a nature trail located over in Guilford County. I started my run at about 8am and stopped to rest at about 9:30am. I saw something down the trail from me. It was short like a midget and it was white and had a metalic colored suit on. It was just standing there looking at me. I had not seen anyone else that morning on the trail. I thought it was just another individual ahead of me that had stopped to rest. I get up and continue down the trail. I look at my watch and it was approx. 9:45am. That is all I remember doing. When I woke up, I was back in my car. It was almost 11am. I can still see the dwarf in my memory. I keep repeating it over and over in my head, tryng to remember what happened. I can't remember anything other than being very tired when I woke up in my car and having a small cut just behind my left ear. I wish I could remember more.
**********
5/29/2010 - Maryland:
Excited to be in Ocean city, I was outside on a deck on the first floor of a three floor condo building having a smoke, looking at the stars and watching the people across the street party on their 3rd floor deck.
I was looking at the Orion constellation and saw a falling star start from the left of Orion's belt and continued through bottom part of the constellation. The falling star was incredibly bright and it seemed like it took forever for it finally burn out.
The people across the street left and went to the beach, so I went inside and got another smoke before I went to bed. I'm guessing it was about 15 minutes since I saw the falling star.
I went back outside sat down and noticed a figure sitting at the patio table on the 2nd floor of the condo building across the street. I found it to be very strange because no one was occupying that unit. I was staring in disbelief at how this figured looked. It was sitting at the table like a human would, with its left arm resting on the table and it appeared his legs were crossed (for some reason, I feel as though it was male). The figure was tall, big, muscular with a shadow/black like appearance and no visible features. The head was elongated and it was very large. I couldn't believe I sat there because of what I seeing I should have screamed and ran inside but didn't. I could tell it knew I was there, but I eventually got up and left because it made no movement and I grew scared of what would happen. As I closed the sliding glass door after going inside, the figure was still there.
That morning during the light, I tried to determine what could have made that figure on the deck and there was nothing on the deck but a table and 4 chairs.
I will never forget what I saw and will believe until the day I die, that something visited Ocean City in the wee hours of the morning that day.
The Cryptoterrestrials: A Meditation on Indigenous Humanoids and the Aliens Among Us
- I highly recommend this book...Lon
Aliens in America: A UFO Hunter's Guide to Extraterrestrial Hotpspots Across the U.S.
- another excellent read...Lon
Spirit Rescue International™
Providing no-cost professional spiritual help, personal support and guidance
Take the first step towards genuine peace of mind
The Spirit Rescue International™ Haunted Help Forum
*Join Our Group On Facebook*
Join Eric Altman and Lon Strickler each Sunday at 8 PM ET as we go
Beyond the Edge!
Astral Perceptions - Discussing ultraterrestrial and multidimensional phenomena and the proficiency of remote viewing
Join the
The Social - Paranormal Network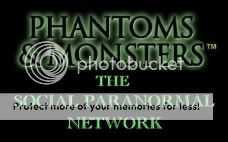 A NETWORK OF INVESTIGATORS, ENTHUSIASTS AND THOSE SEEKING THE TRUTH
THROUGH PARANORMAL EDUCATION AND DISCUSSION
ANOMALIST BOOKS
Works on maverick science, unexplained mysteries, unorthodox theories, strange talents, and unexpected discoveries. Please check out their excellent and diverse catalog
Become a fan of 'Phantoms and Monsters' at Facebook
"The latest news from beyond the mainstream"
Join Ben & Aaron for their weekly podcasts!
Check out Mysterious Universe Plus+ all access format!
Have you been looking for a great gift?
Instant 15% off your purchase - Use coupon code PH2011
Free shipping - Bonded dealer - PCI certified

***********
HAPPY HOLIDAYS! YOUR SUPPORT IS APPRECIATED
Donations can be accepted through PayPal - 'Donate' buttons are located below or on the blog or go to the PayPal homepage and send the donation to my user email - lonstrickler@phantomsandmonsters.com.

Please help in keeping 'Phantoms and Monsters' a free service.

BTW, I am always open to blog content suggestions and well-detailed submissions of your experiences. Thanks again...Lon


Labels: alien abduction, close encounter, MUFON CMS, UFO
Have you had a close encounter or witnessed something unusual? Send us an email