The information below was provided to
Anthony F. Sanchez
in June 2008, via classified data shared with him during an interview with his source TRINITY, a former senior level technical consultant on PROJECT LEONID working for Lockheed Martin Corporation at a secret facility near Moffett Field CA.
"The Chinese military, under the control of the NWO (New World Order), have completed construction in the Chengdu District of what is the mother of all underground bases; a location which possesses a maglev rail system that leads all the way to its southern coastal waters. Unlike the Dulce underground facility, which is scientific and primarily used for horrific experimentation on people, including new weapons research and development, the Chengdu underground complex is used for one purpose: strategic military staging and preparation.

Our best intelligence on Chengdu is very limited, but we know that the underground military facility and the NWO controlled Chinese government require our immediate attention. It is the NWO in China who has systematically fed the geo-political and economic flame towards an ultimate invasion against the rest of the world. What must be understood is that invasion will not be from interests in the Middle East, like you are being led to believe. The Chinese are developing stealth capabilities at a devastatingly fast rate, including advanced systems using alien technology.

If we do not pay attention, they will own our military in the same way they already own our economy. Under the USAF and DOD, a dangerous project called LEONID is under way to combat the Chinese efforts. When you know more, you will begin to understand why programs such as LEONID and places like the Dulce facility are critical to our government, but at what risk to us? We have many friends abroad including many in China who we must help and ultimately save; people who have risked their lives to defect and share critical data on NWO activities now being conducted both in China and here... within our own government."
- TRINITY, Sr. Software Engineer, June 2008 (Technical Consultant, Project LEONID)
-----
9:17 AM 12/2/2011
Three-year study causes controversy on Capitol Hill
China is hiding nuclear warheads inside a vast network of tunnels, according to a three-year investigation by a group of Georgetown University students.
The Asian Arms Control Project was led by Georgetown Professor Phillip A. Karber, a former top Pentagon strategist. The researchers say they identified locations of the tunnels by combing through hundreds of Chinese military journals and documents as well as studying TV reports and satellite images, according to the Washington Post, which broke the story Tuesday.
Their findings suggest the U.S. has greatly underestimated the size of China's weapons arsenal — but some experts have questioned the study's methodology.
"It doesn't make any sense to build ten miles of tunnels to hide one nuclear weapon," Karber told the Daily News.
And ten miles is a drop in the bucket compared to what China has admitted.
In 2009, as the students were aggressively moving forward with their research, the Chinese military admitted to constructing 3,000 miles of tunnels.
The students' yet-to-be-released 363-page report is causing a stir in Washington, and prompted a Congressional hearing.
The project has drawn criticism from some analysts for drawing on Chinese blogs and a docudrama about the Chinese military. A member of the Union of Concerned Scientists told the Washington Post that the study's methodology was "incompetent and lazy."
"We're not drawing conclusions from the blogs; they tip us off to areas for further research," Karber told The News. "How can scientists make these claims when they haven't even seen our sources?"
He added that the group studied about 200 hours of video, most of it from state-run television stations.
NOTE: here is the link to my post on Anthony Sanchez and his interviews with Project Camelot and Coast to Coast AM. I am not endorsing or discounting the information provided...merely presenting it for your perusal. Sanchez' new website - www.PROJECTLEONID.com...Lon
UFOs, the Grand Deception and the Coming New World Order
The Trillion-Dollar Conspiracy: How the New World Order, Man-Made Diseases, and Zombie Banks Are Destroying America
The Real Men In Black: Evidence, Famous Cases, and True Stories of These Mysterious Men and their Connection to UFO Phenomena
Alien Invasion: The Ultimate Survival Guide for the Ultimate Attack
Spirit Rescue International™
Providing no-cost professional spiritual help, personal support and guidance
Take the first step towards genuine peace of mind
The Spirit Rescue International™ Haunted Help Forum
*Join Our Group On Facebook*
Join Eric Altman and Lon Strickler each Sunday at 8 PM ET as we go
Beyond the Edge!
Astral Perceptions - Discussing ultraterrestrial and multidimensional phenomena and the proficiency of remote viewing
Join the
The Social - Paranormal Network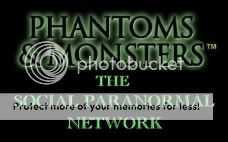 A NETWORK OF INVESTIGATORS, ENTHUSIASTS AND THOSE SEEKING THE TRUTH
THROUGH PARANORMAL EDUCATION AND DISCUSSION
ANOMALIST BOOKS
Works on maverick science, unexplained mysteries, unorthodox theories, strange talents, and unexpected discoveries. Please check out their excellent and diverse catalog
Become a fan of 'Phantoms and Monsters' at Facebook
"The latest news from beyond the mainstream"
Join Ben & Aaron for their weekly podcasts!
Check out Mysterious Universe Plus+ all access format!
Have you been looking for a great gift?
Instant 15% off your purchase - Use coupon code PH2011
Free shipping - Bonded dealer - PCI certified

Labels: Anthony F. Sanchez, Dulce Base, Project Leonid
Have you had a close encounter or witnessed something unusual? Send us an email