Australian Yowie Research's Dean Harrison
gave an interview to
CFZ Australia's Mike Williams
about his unusual Yowie encounter.
Click for video - Australian Yowies
Photos: Australian Yowie Hunter Attacked
6/2/2009: It never rains but it pours - in this case, improbable events.
Hot on the heels of last week's wild weather in southeast Queensland comes a hunter of mythological beasts - Tim the Yowie Man.
Tim - who uses no surname and can be almost as elusive as his quarry - says there is a direct correlation between significant rain events and sightings of the yowie.
"The soaked soil and muddy bogs created by the heavy rain are more conducive to animals, including yowies, leaving their footprints,'' Tim said.
He said last week's rain could make "a large hairy bipedal hominoid creature'' uncomfortable and force it from deep jungle canyons into the open.
So Tim has rushed from that other capital of strange mysteries - Canberra - to Springbrook in the Gold Coast hinterland, a village he describes as the yowie capital of Australia for its many sightings.
So far he's seen nothing - but that hasn't put him off.
"I'm quietly confident of finding some sort of evidence such as hair or footprints of the mystery beast,'' he said.
"If I'm really lucky I may even get to see one.''
Dean Harrison of Australian Yowie Research says he has just returned from Springbrook, bearing photographs of footprints he believes are of a female yowie and her young trailing along behind.
"They seem to be quite passive around that area compared to other areas that we've been to,'' Mr Harrison said.
He said tales of yowies near Springbrook date back to before European settlement.
Mr Harrison said on his latest expedition he was rugby-tackled by a yowie at 3am near Gympie.
"This one knocked me flying backwards. I landed in a rockpool,'' he said.
Australian Yowie Research has been nominated for a Bent Spoon Award on the website of Australian Skeptics, a group that investigates paranormal and pseudoscientific claims.
There are more graphic pics of Harrison's injuries at Cryptomundo.com
-----
About Australian Yowie Research
The Australian Yowie Research is the FIRST Website on the Internet dedicated to the Research of the Yowie and are also the LARGEST and most well known Research Organization in the World on all subjects Yowie related. Many years of hard work and Research has contributed to the massive 'Hit' rate and Success of the A.Y.R. We have been seen repetitively in all facets of the Media on Yowie related issues throughout Australia including Regular Television, Radio and Printed Media. We are also broadcast throughout the World in many TV Specials and Documentaries.
The A.Y.R. are also known as "The YowieHunters" in the Media, but we prefer to be known as "Yowie Research" due to the fact that we wish no harm to The Creature and do not wish to instill a predictable interpretation of the word "Hunter". The A.Y.R. are linked to all Major Researchers in this field around the Globe, keeping up to date with the latest findings concerning all the new Bigfoot and Yowie evidence as it happens. A.Y.R. own some of the latest and most modern surveillance equipment in Australia, which is used in our everlasting quest for the truth and long term goal of the eventual filming of this Creature to prove to the unknowledgeable skeptic that the Yowie does in fact exist. There are NO definites about what the Yowie actually is, other than a 'Hairy Man/Ape' that resides in the deep of our and the World's forests.
Hypothesis is abundant in this field of Research, as too is conjecture and debate regarding what the Yowie is. It could perhaps be the last surviving Gigantopithecus or maybe a Species of Austrlopithecine - may also be neither. Whatever the Yowie may be, there is far too much evidence to support that the Yowie DOES exist, rather than it does not. Many of the World's academics are now coming forward after being shown various evidence and claiming that there is certainly something out there that is not formally recognized by Science.
The Witness reports cannot be ignored. Just how many credible witnesses viewing this Animal at close range will it take for people to understand that the Yowie is far more than imagination? The reader must also keep in mind that many of these witnesses were not alone at the time of their sightings. There has been up to 20 Witnesses during the same encounter! Some of our best witnesses of the Yowie WERE IN FACT Skeptics prior to their encounter! There have been thousands of Yowie reports in this Country since Colonialism during the 1700's, all describing the exact same Creature. These encounters are not only visual, but also audible. Again the reports over the years tell of deep guttural growling and grunting far beyond the vocal capacity of a human. Reports from the late 1700's are the same description as the current reports today.
How could this be? Considering that 300 years ago E-mail, Fax and Phone were not available for these witnesses to collaborate, to create an elaborate fictitious story? People on both sides of the Country were encountering the same Beast at the same time, much the same as today. The 'fear of ridicule' factor is slowly diminishing and more people are now coming forward, where in the past they were reluctant. The A.Y.R. have been instrumental in this major shift in the communities thinking and the acceptance of the possibility that there IS something lurking deep in our forest regions.
Yowie sightings are rare, depending on where people live, however we do have properties where people live side by side with these Beasts and sightings are such a regular occurrence that they are simply accepted as 'Neighbour's in some respects. Footprints of the Creature are cast and the A.Y.R. have been involved in sending one of these casts off to Dr. Jeff Meldrum of Idaho State University for formal examination, in which he considered the cast to be authentic and concluded that the print matched the Sasquatch. The A.Y.R. holds a vast amount of files on the Yowie from the 1700's to this current day. This Website is constantly changing, upgrading and uploading - so stay tuned for further updates. We would like to thank the many contributors to the A.Y.R. Website and the encouragement and support of our fellow Researchers. - Dean Harrison

NOTE: Dean Harrison is the lead researcher at AYR. Take a look at the site at Australian Yowie Research - it's a very informative venue...Lon
The Yowie: In Search of Australia's Bigfoot
Australian Legendary Creatures, including: Bunyip, Muldjewangk, Rainbow Serpent, Yowie, Gippsland Phantom Cat, Blue Mountains Panther, Wagyl, ... Yara-ma-yha-who, Drop Bear, Bundjalung Nation
Spirit Rescue International™
Providing no-cost professional spiritual help, personal support and guidance
Take the first step towards genuine peace of mind
The Spirit Rescue International™ Haunted Help Forum
*Join Our Group On Facebook*
Join Eric Altman and Lon Strickler each Sunday at 8 PM ET as we go
Beyond the Edge!
Astral Perceptions - Discussing ultraterrestrial and multidimensional phenomena and the proficiency of remote viewing
Join the
The Social - Paranormal Network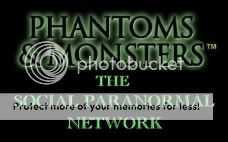 A NETWORK OF INVESTIGATORS, ENTHUSIASTS AND THOSE SEEKING THE TRUTH
THROUGH PARANORMAL EDUCATION AND DISCUSSION
ANOMALIST BOOKS
Works on maverick science, unexplained mysteries, unorthodox theories, strange talents, and unexpected discoveries. Please check out their excellent and diverse catalog
Become a fan of 'Phantoms and Monsters' at Facebook
"The latest news from beyond the mainstream"
Join Ben & Aaron for their weekly podcasts!
Check out Mysterious Universe Plus+ all access format!
Have you been looking for a great gift?
Instant 15% off your purchase - Use coupon code PH2011
Free shipping - Bonded dealer - PCI certified

Labels: australia, cryptozoology, hominid, paranormal, Yowie
Have you had a close encounter or witnessed something unusual? Send us an email