It seems that most of the recent news from the Bigfoot world includes more levity than actual serious research. For instance, the staged Russian Yeti investigation, the reemergence of one of the Georgia Bigfoot hoaxers, the North Carolina Bigfoot lured by candy bars, most of Animal Planet's 'Finding Bigfoot' episodes, etc. Now we have a night-vision video at
Video - Success at last!!
.
Larry Surface
Larry Surface, a hunter, trapper and farmer from Southern Ohio came forward this weekend with video footage. Frankly, the video has most everyone in the Bigfoot community scratching their heads...mostly from disbelief that anyone could proclaim the subject in the video as an unknown hominid. Larry states he set up his camera to catch Bigfoot in the tree line near an "old couple's" residence. He says he was shocked by what happened next after examining the video.
My interpretation of the video is that ole' Larry took a stroll in front of his own camera...or that Bigfoot has a goatee and a bald head. Go to the site and decide for yourself...is that Larry, another man or a well-coiffed Sasquatch? BTW...I wasn't given permission to repost video.
NOTE: Eric and I discussed this video early in our show on Sunday Nov. 14th - Beyond the Edge Radio - Nov 14, 2011...Lon
Legend of the Grassman
Traces of the Grassman: The Search for the Ohio Bigfoot
Spirit Rescue International™
Providing no-cost professional spiritual help, personal support and guidance
Take the first step towards genuine peace of mind
The Spirit Rescue International™ Haunted Help Forum
*Join Our Group On Facebook*
Join Eric Altman and Lon Strickler each Sunday at 8 PM ET as we go
Beyond the Edge!
Astral Perceptions - Discussing ultraterrestrial and multidimensional phenomena and the proficiency of remote viewing
Join the
The Social - Paranormal Network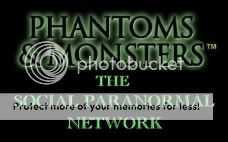 A NETWORK OF INVESTIGATORS, ENTHUSIASTS AND THOSE SEEKING THE TRUTH
THROUGH PARANORMAL EDUCATION AND DISCUSSION
ANOMALIST BOOKS
Works on maverick science, unexplained mysteries, unorthodox theories, strange talents, and unexpected discoveries. Please check out their excellent and diverse catalog
Become a fan of 'Phantoms and Monsters' at Facebook
"The latest news from beyond the mainstream"
Join Ben & Aaron for their weekly podcasts!
Check out Mysterious Universe Plus+ all access format!
Have you been looking for a great gift?
Instant 15% off your purchase - Use coupon code PH2011
Free shipping - Bonded dealer - PCI certified

Labels: bigfoot, cryptid, hoax, hominid, Ohio
Have you had a close encounter or witnessed something unusual? Send us an email