The world of cryptozoological television programs was introduced to Matt Bille during the fall of 2008. He was interviewed as an
on-camera expert on mystery bears for an episode of The History Channel's "MonsterQuest" series
. For years before, Matt toiled away on individual cryptozoology and other projects in the twenty years before his appearance. For a half decade, Matt wrote and edited the cryptozoology newsletter
Exotic Zoology
, from 1994 to 1999.
Professionally, Matt Bille is a defense policy analyst and freelance science writer living in Colorado Springs, Colorado. A former U. S. Air Force officer (1982-1994), specializing in ballistic missiles, guidance programming, and command & control, he holds a Masters in Space Systems Management. He has published numerous papers and articles on space technology.
In his other field of interest, cryptozoology, he published his first book,
Rumors of Existence
, in 1995. His first nonfiction book was about the world's rarest and least known animals and the many new discoveries made in the 20th century.
His second nonfiction book was on space history.
The First Space Race: Launching the World's First Satellite
s (2004), was published by Texas A&M, under sponsorship from the NASA Chief Historian.
A linked sequel to his first work, his third book,
Shadows of Existence
, was published in 2006. Like his first tome on cryptozoology, this one also covers recently discovered animals, species thought extinct which have been or may be rediscovered, and unconfirmed mystery animals of all types.
Matt interests are many, with specialties on space, cryptozoology, and national defense, which he continues to write about at
Matt's Sci-Tech Blog
. His first novel,
The Dolmen
, will be published by Wolfsinger Publications in 2012.
SEE YOU IN THE CHAT ROOM!
Join Eric Altman and Lon Strickler each Sunday at 8 PM ET as we go
Beyond the Edge!
The First Space Race: Launching the World's First Satellites (Centennial of Flight Series)
Rumors of Existence: Newly Discovered, Supposedly Extinct, and Unconfirmed Inhabitants of the Animal Kingdom
Shadows of Existence: Discoveries and Speculations in Zoology
Spirit Rescue International™
Providing no-cost professional spiritual help, personal support and guidance
Take the first step towards genuine peace of mind
The Spirit Rescue International™ Haunted Help Forum
*Join Our Group On Facebook*
Join Eric Altman and Lon Strickler each Sunday at 8 PM ET as we go
Beyond the Edge!
Astral Perceptions - Discussing ultraterrestrial and multidimensional phenomena and the proficiency of remote viewing
Join the
The Social - Paranormal Network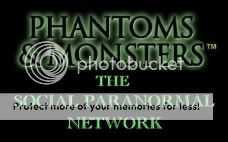 A NETWORK OF INVESTIGATORS, ENTHUSIASTS AND THOSE SEEKING THE TRUTH
THROUGH PARANORMAL EDUCATION AND DISCUSSION
ANOMALIST BOOKS
Works on maverick science, unexplained mysteries, unorthodox theories, strange talents, and unexpected discoveries. Please check out their excellent and diverse catalog
Become a fan of 'Phantoms and Monsters' at Facebook
"The latest news from beyond the mainstream"
Join Ben & Aaron for their weekly podcasts!
Check out Mysterious Universe Plus+ all access format!
Have you been looking for a great gift?
Instant 15% off your purchase - Use coupon code PH2011
Free shipping - Bonded dealer - PCI certified

***********
YOUR SUPPORT IS NEEDED!
Donations can be accepted through PayPal - 'Donate' buttons are located below or on the blog or go to the PayPal homepage and send the donation to my user email - lonstrickler@phantomsandmonsters.com.

Please help in keeping 'Phantoms and Monsters' a free service.

BTW, I am always open to blog content suggestions and well-detailed submissions of your experiences. Thanks again...Lon


Labels: Beyond the Edge Radio, Eric Altman, Lon Strickler, Matt Bille
Have you had a close encounter or witnessed something unusual? Send us an email