The following narrative comes from my associate and mentor Irene Allen-Block of Spirit Rescue International:
Around about 1971, I met and was fond of an Italian boy called Marco. Marco had come over here to the UK to avoid going into the army which was compulsory then in Italy. He came from the South of Italy, up in the mountains, in a village called Pontone just above the Amalfitana Coast.
In this village lived an old man who was a recluse who always wore a silver ring on his finger; the house he lived in had been built into the side of the mountain. When this old man died his house went up for sale and Marco's parents decided to buy it. On the day they moved in there was nothing in the house except on a nail in the kitchen wall, hung the ring that the old man refused to be parted from.
Marco took the ring and it ended up here in England; well on this particular day Marco had met me from work and coming home on the bus he was telling me the story. He told me that from the day he took the ring nothing had gone right for him, everything he attempted, failed. He had become ill with a mysterious illness that no one could get to the bottom of; only when he stopped wearing the ring did things improve.
When Marco came to this country, he brought the ring with him as now he had sussed that it was evil and didn't want to leave it for any members of his family to get hold of. After a few weeks over here his luck was beginning to turn bad again, even though he wasn't wearing the ring; he believed it was something to do with bringing the ring out of Italy.
Marco took the ring and buried it in a local church yard about six feet away from the church wall; ten months had gone by since he buried the ring and telling me the story. We had gone through winter, spring and it was now summer; I just had to see this ring and after a lot of nagging, he agreed to take me there to dig it up so I could see it.
The following day, spade in hand, we set off to the church; God only knows what people would have thought if they had seen us. Between the graves, the grass had been freshly mowed; I asked him where it was and he said, "Over there". When we looked, there was one big tuft of grass where the ring was buried; all around this tuft, the grass had been mowed but it seemed that the lawn mower had jumped this piece. We started to dig and I swear when we took the ring, which hadn't been wrapped in anything, out of the ground, there was not one bit of dirt anywhere on it. After all the bad weather, rain, snow and whatever else we had had during that winter, the ring was clean, bright and shiny. If it had not been for the tuft of grass growing on it, you would think that it had just been buried.
To cut a long story short, I kept the ring and I took it to work where it was seen by a customer who inquired about it, after telling him the story he offered me £500 for the ring. This was a lot of money in those days and it started me thinking that the ring must have been valuable, so I took it to a jeweller.
This jeweller was a little old Hungarian man with his own small business. He had come over to the UK just after the war as an immigrant; he took one look at the ring and told me to get out of his shop. I argued with him that I only wanted some information on it. After a lot of persuasion he said, "The ring is solid silver, handmade, about two to three hundred years ago, the eyes are rubies. You are the keeper of the ring keep it safe; now get out of my shop."
I bought a book on devils and demons to see if I could trace the carving of the face on the ring, the nearest I got was Beelzebub.
The ring has now been in my care in a locked box in my attic for the last forty years. The box has only been moved once, from my attic in London to the one in the house I live in now and has not seen the light of day since it was first placed in the box.
Marco immigrated to Canada and became a wealthy man but never married and I, well, since taking on the ring have always had to struggle for everything; maybe the curse of the ring goes on.
Either this ring is cursed or has an entity attached to it; I believe it could be the old recluse, who to wear a ring like that must have practised the occult, or could it be that something far worse is attached to the ring. Who knows, I don't really want to find out.
NOTE:
this excerpt is from Irene's book
"Among the Spirits"
which we hope to have published in the near future. Just today, Irene retrieved the ring, forty years after it was doused in holy water, bound and stored away. Her and I have been discussing the ring for the past few days...so she decided to show it to me. As well, houseflies have appeared in large numbers in one particular room during the week. Maybe the following information can shed some light on this phenomenon:
Baal Zebub (Beelzebub)
Baal Zebub is a Philistine god at Ekron (2 Kings 1:2). Later this name came to denote satan. The name Baal Zebub transliterated into Greek gives the familiar name Beelzebub (Matthew 10:25).
The name Baal Zebub consists of two parts. Firstly the common Hebrew word Baal, meaning owner, husband. The second part of the name Baal Zebub is the word Zebub (zebub 523a), flies, from the unused root zbb (zbb 523), which in cognate languages means to go hither and thither, move to and fro. Baal Zebub means
Lord Of Flies
.
Since flies do not acknowledge authority this name is an empty title, and a good look at the behavior of flies may yield some insights in the workings of evil:
God's empire is like that of bees (the Hebrew word for bee,
deborah
is the feminine version of the masculine dabar, 'Word', Logos in Greek); bees have a house, like flowers, make honey, speak a language, care for offspring, are armed. Satan's 'empire' is like flies; flies are homeless, like dung and decaying flesh, make nothing, speak no language, don't care for their offspring, are not armed.
This name is a beautiful illustration of the core difference between God and satan, between the saved and the lost. The people that are saved, in the Biblical sense of the word, are part of an intertwined collection of souls called the Body of Christ. This Body is again a life form but of a higher plain; it's a singular entity with its own personality and spirit, and this mystery may perhaps be understood when we realize that every human being is in fact a huge colony of billions of single celled creatures. All these cells have at their core the same genetic blueprint, just like all members of the Body of Christ have the Word as their core. And just like these colonies that we are, have the single personality and single soul we identify ourselves with, so does the Bride of Christ.
The lost, however, are not connected, although they may readily huddle up and imagine they are united. The lost care only about themselves, like flies that scurry around on a carcass, and engage in business and science and the pursuit of happiness just like the saved. But the lost do not form an amalgamation with a single soul. Satan is called the ruler of this latter group, but since the group does not subject to a central rule, he can only cause greater chaos. -
abarim-publications
NOTE: If anyone has information on the ring...origin and other particulars, we'd be grateful. It seems to be hand cast in silver (asymmetric) with round ruby eyes...Lon
The Revolution of Beelzebub: Gnosis, Anthropogenesis, and the War in Heaven (Timeless Gnostic Wisdom)
The Encyclopedia of Demons and Demonology
They Shall Expel Demons: What You Need to Know about Demons - Your Invisible Enemies
Spirit Rescue International™
Providing no-cost professional spiritual help, personal support and guidance
Take the first step towards genuine peace of mind
The Spirit Rescue International™ Haunted Help Forum
*Join Our Group On Facebook*
Join Eric Altman and Lon Strickler each Sunday at 8 PM ET as we go
Beyond the Edge!
Astral Perceptions - Discussing ultraterrestrial and multidimensional phenomena and the proficiency of remote viewing
Join the
The Social - Paranormal Network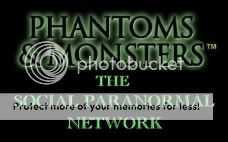 A NETWORK OF INVESTIGATORS, ENTHUSIASTS AND THOSE SEEKING THE TRUTH
THROUGH PARANORMAL EDUCATION AND DISCUSSION
ANOMALIST BOOKS
Works on maverick science, unexplained mysteries, unorthodox theories, strange talents, and unexpected discoveries. Please check out their excellent and diverse catalog
Become a fan of 'Phantoms and Monsters' at Facebook
"The latest news from beyond the mainstream"
Join Ben & Aaron for their weekly podcasts!
Check out Mysterious Universe Plus+ all access format!
Have you been looking for a great gift?
Instant 15% off your purchase - Use coupon code PH2011
Free shipping - Bonded dealer - PCI certified

Labels: curse, haunted, Italy, possession, spirit attachment, UK
Have you had a close encounter or witnessed something unusual? Send us an email