There have been multiple UFO sightings from Kansas City to Springfield, Missouri this week and, according to the Missouri MUFON State Director, another 60+ reports were submitted to MUFON in September. Below are new reports made within the past 24 hours...all unedited:
On Oct 3, at about 7:50 p.m. we were driving on 40 Highway west heading towards Noland Road to return to our home near Raytown. As we headed west on 40 Highway we saw off in the distance a rather large object with many lights. It was moving very slowly and we wondered what it was but didn't think much about it at the time since we only saw it for a short time. Then, the next evening, we were going out for an evening walk since the weather was so beautiful on October 4th around 8:00 p.m and saw the same object again. As we exited the house (we live up high on a bluff between Raytown and Lee's Summit, MO) we noticed unusually bright lights in the sky and I said that I wondered what that was since it was moving extremely slow and looked very large. Then all of a sudden, it appeared to separate so then I thought it was three separate planes but just as fast as it separated it went back together as one and headed northeast. I wonder now if it looked like it separate but in fact had just turned vertically. We continued to wonder what it was but went on with our walk as it continued across the horizon. When we got about 3 blocks from the house, we again observed the large brightly lit object in the sky and as we walked it moved very slowly and seemed to hover at times. The lights would change sometimes being horizontal and other times being vertical, sometimes solid and other times blinking. When we got to a cul-de-sac which sits on a bluff, we stood in someone's driveway and watched the object in amazement. It was off on the horizon and appeared to be over the Raytown area. At one point it appeard to make a 180 degree turn and go the other way. The lights appeared to triangular in shape when it would turn a certain way. When it was the nearest to us we commented that it was making no sound. My friend commented that maybe it was some kind of blimp since there was no sound. As we were standing there, the person whose driveway we were standing in came home and we pointed the object out to them. The guy jokingly said it was a UFO and we laughed and agreed. As we started to walk we heard some noise and then saw a helicopter but the object had disappeared. We ran into some other neighors who said they had seen it while they were walking in the parking lot of the Teetering Rocks Golf Course. We all agreed it was like nothing we had ever seen but had no idea what we had seen. After reading all these other sightings, I decided I would report what we saw. It was never as close to us as others have reported but our description would be very similar to the others that have been reported.
-----
On oct 4 2011 i was at work and caught a real good look at a super gigantic ship that was slow to move and did a U turn in front of me. Now this object was so low u would hear it if it was an earthly flying object, but no sound especially at its massive size. Right after that all the animals came out and stood on top of a hill at work, weird. Second sighting i happened to still be thinking about the first and was smoking a cigarette at 830am on oct 6 and saw an aircraft with a banner tailing it. I flashed my high intensity flashlight at it to catch attention, i saw the banner disappear quick as 10 seconds after i flashed about 20 aeconds later the aircraft in front disappeared....the sky was clear.
-----
U was at work looking up for some odd reason, just happened to catch my eye. I knew it was a ufo, considering i have past military secret clearance. It was tree elevation above a hill at my job about the size of at least 5 747s end to end with no sound. It was extremely slow moving and did a U turn right in front of me. Right after that all the animals of the woods headed to the top of the hill, it just left oddly enough. The second sighting was on 10-6-2011 when i was at home smoking outside still thinking about the first sighting, i flashed my high intensity flashlight at an object that looked like an aircraft with a banner to catch its attention, as soon as i flashed it the 'banner' disappeared and a few moments later the aircraft in front disappeared in a clear sky.
-----
Me and My mother were coming home and was going around the round about at sampson when off to the right we seen what looked like to be a oval object flying real low to the ground. At first we just thought that it was just an airplane but it was flying way to low. but it wasnt moving very fast at all. I had made a joke about it beeing an ufo but i was just playing. Until the next day wasnt anything in the sky, until nightfall also around eight ish me and my mother saw it again for the secind time, this time it was kind of moving in the direction of 470 hgh way towards 350 hgh way. i still thought the same thing that maybe its nothing. Then today at work i heard som people say some things about it being on the news so i decided to share my story because i also saw the samething and its crazy if it turns out to bean ufo the whole time.
-----
We were driving home to Raytown coming from Blue Springs on I-70. My wife was driving in a separate vehicle behind me. My 4 year old son was in the car with me. I looked to my left (south) approximately as we were approaching 291 hwy. and Independence mall. I noticed a horizontal line of very bright lights off in the distance. It appeared that some sort of aircraft was hovering in the distance, but it caught my attention because the lights were brighter and in higher quantity than a typical a airplane. I continued to drive, but kept looking out the window to keep an eye on the aircraft. As I approached Chiefs & Royals stadiums, I had somewhat lost track of it, when suddenly my 4-year old son spotted the aircraft and got my attention. At that point it was close enough that I could see the underside of the craft and I could tell the it was triangular in shape and had 15-20 lights on the bottom side. I then merged onto 435 south headed towards Raytown (right next to the stadiums), when all of a sudden the aircraft slowly flew directly over Chiefs stadium and directly over my head. It was only a few hundred feet above my head at most. The Chiefs stadium lights happened to be on although there was no event at the stadium that night from what I could tell. When the aircraft flew over my head I got a very good look at the enormous size of this aircraft and the bright multi-colored lights were unlike anything I had ever seen on an aircraft. The stadium lights also allowed me to see 3-4 streams of smoke coming from the back of the aircraft. However, the aircraft was completely silent when it flew over head. At this point, I was getting a bit nervous and/or excited because I had no idea what I was looking at. I have never been a believer in aliens or UFO's. I thought maybe it was a planned stadium fly over, but there was no event at Chiefs stadium, so that didn't make sense. My only other guess is that it was some sort of top-secret military aircraft considering that we have a couple of nearby air bases. I then exited onto 350 highway and entered Raytown, MO when my son again spotted the aircraft, which had done a 180 degree turn and circled back around. It was now flying east and then turned north and flew away from us back towards the stadiums. I was finally able to get my wife's attention and pointed it out to her as it was flying away. I went home for a brief moment, but then decided to chase it. I drove up to Chiefs stadium, but there was no sight of the aircraft. Within 30 seconds of arriving, they shut the lights off at Chiefs stadium. I have tried to pass this off as some military experiment, but I have bee on edge ever since the sighting. It's good to know others saw the same thing, but I just want to know what it was.
-----
Monday night my husband and three kids were driving around 730 at night and saw a weird large object far away with bright lights. i showed it to my husband and he said it was a spray plane. i said no way it is dark outside and the object is way too large and is over a city. we went inside a store to eat ice cream. my son was so scared he called his uncle and told him. we ate ice cream and came back outside. we were all looking for the object and saw it again. i drove closer to it, my husband and i dont believe in UFO's. we drove closer and it hovered over our car near down town lees summit mo. it had bright white lights and green flashing lights. my kids started crying and i started driving really fast. the object looked as large as a 747 or larger but was hovering so low. Again, I do not believe in UFO's but after that night i do. my husband and i tried to forget about the event. the next day i went onto the news website and didnt see any other reports. so we dismissed it. tonight on the news we saw all the other reports and now know 100% we saw a UFO!!! -
MUFON CMS
NOTE: here are links to other sightings posted at the MUFON CMS the previous 2 days:
Large UFO Reported Near Kansas City - Multiple Witnesses - MUFON Alerted and UFO Flap Continues Near Kansas City - MUFON Star Team On-Site
UPDATE: my colleague Sunny Williams has a video from one of these sightings posted on her blog at Video: Missouri Sighting...Lon
UFOs in Missouri: True Tales of Extraterrestrials and Related Phenomena
Missouri UFO's & Extraterrestrials!: A Look at the Sightings & Science in Our State! (Carole Marsh Missouri Books)
Spirit Rescue International™
Providing no-cost professional spiritual help, personal support and guidance
Take the first step towards genuine peace of mind
Look for the SPIRIT RESCUE INTERNATIONAL Exclusive
in the Halloween Edition of HAUNTED MAGAZINE
The Spirit Rescue International™ Haunted Help Forum
*Join Our Group On Facebook*
Join Eric Altman and Lon Strickler each Sunday at 8 PM ET as we go
Beyond the Edge!
Astral Perceptions - Discussing ultraterrestrial and multidimensional phenomena and the proficiency of remote viewing
Join the
The Social - Paranormal Network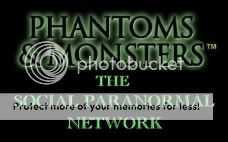 A NETWORK OF INVESTIGATORS, ENTHUSIASTS AND THOSE SEEKING THE TRUTH
THROUGH PARANORMAL EDUCATION AND DISCUSSION
ANOMALIST BOOKS
Works on maverick science, unexplained mysteries, unorthodox theories, strange talents, and unexpected discoveries. Please check out their excellent and diverse catalog
Become a fan of 'Phantoms and Monsters' at Facebook
"The latest news from beyond the mainstream"
Join Ben & Aaron for their weekly podcasts!
Check out Mysterious Universe Plus+ all access format!

Click here to check out Stan's most recent book!

Labels: Missouri, MUFON CMS, UFO, unexplained lights
Have you had a close encounter or witnessed something unusual? Send us an email