Why are there so many ghost stories about a "woman in white"?
Does your town have a Woman in White? Of course it does. There is no town that doesn't have a woman in a white dress who wafts around drafty halls of the local manor, or paces the widow's walk of the local hotel. Find out about the woman in white legend, some local examples, and share your own stories of ghostly women in white. I know you have them. Everyone does.
The I remember living in was mostly open land until the 1960s. It was built up in the few decades between then and the time I arrived. The only old structure in the entire town was a large Catholic school, and so that is where the Woman in White used to hang out. Some say the school building used to be a convent and the woman was a nun in love with a priest, some say it used to be the house of a robber baron and the woman was his unfortunate wife, some say it was always a school and she was a lovelorn teacher. It doesn't really matter. Just as long as a ghostly woman gliding over the grounds, the reason could be supplied later.
White Women or White Ladies, are an international phenomenon. In Holland and Germany, centuries ago, they are said to be healers and gentle spirits. German legend has them appearing at noon, blindingly beautiful in the light. Dutch legend has them haunting graveyards during the night, the spirits of healers passed from the earth. They are not necessarily ghosts. Often they're treated more as elves or earth spirits, though they began as humans. Up in Ireland, and more northern countries, wailing women in white are said to foretell death. Down south, in Mexico, the La Llorona legend has it that these women in white drowned their children, and lurk by water to drown more. Yūrei, in Japan, are vengeful spirits attached to certain objects or places, and attack the people who come into contact with them. But these are all old legends.
In modern woman in white stories, there is always a tragic love story. The woman in white is rarely someone's sister, daughter, or mother. Oh, she maybe be any or all of those things (It's a pretty safe bet that she's someone's daughter.), but those aren't the things that her legend is dealing with. One of the next major towns I lived in was on the coast. A restaurant that overlooked the ocean was built on a beach famous for being the landing ground for bootleggers bringing alcohol close to San Francisco by boat, and loading it on to trucks to make the journey into the city. This much is true. The idea that a woman in white walks the edge of the cliff (or what the less romantic among us would call the parking lot) is not as well established, but the legend continues. Supposedly she was the bootlegger's girlfriend, while having a less wealthy lover on the side. The bootlegger killed her. It's not clear whether she was killed at that drop off point or whether her body just washed up there, but the important points; love, sex, betrayal, murder, are there in most Woman in White Legends. She's someone's unhappy wife, or illicit lover, or suicidal betrothed, or some other sad tale of romantic woe.
San Francisco itself has a rather unusual ghost - an urban woman in white who walks outside. Most cities have figures that appear in the windows of great old houses, or flit through the walls or along the roofs of old hotels, but we have one that walks up and down California Street, a high-traffic road that crosses the entire city. Our outdoor woman in white is said to be Flora Sommerton. She was eighteen in 1876, a celebrated beauty, an heiress, and the toast of society. Her parents decided to cement her status by forcing her to marry a wealthy older man. Flora's legend is as confused about the details as any other. According to one version she fled down California on the day of her wedding, in her wedding dress. Another has her running out on everyone on the evening of her betrothal in a white ballgown. What's atypical about Flora is she shows up again - just not alive. Fifty years later, in Butte, Montana, a woman's body in the same white dress was found in a hotel room. The room was supposedly covered in clippings about the disappearance of Flora, but the body was never positively identified.
What also stands out about Flora is her age. All women in white seem to be young and pretty, but Flora is just a few years out of the stage when we would call her that other ubiquitous phantom, the Girl in White. Any places that don't have a Woman in White will tend to have a little girl in a white dress floating around a house, staring at people. While Women in White are generally glimpsed from afar and go away soon, little girl ghosts have more of a personality. Sometimes they're solemn and sad, staring at people from windows and doorways. Sometimes they're mischievous, can be heard laughing or running around, and will hide things in the house. Sometimes, they're downright Japanese-horror-movie malevolent. (It's not a coincidence that Linda Blair spent most of The Exorcist in a white night dress.) But they're always around.
Perhaps there's a reason for that. Perhaps young girl ghosts grow up into Woman in White ghosts, and then when they can't squeeze into the dress anymore they head over to Butte, Montana. Whatever the protocol, it's clear that the Woman in White shows up anywhere and everywhere, including your town, right now - possibly reading this over your shoulder. Go ahead and look. I'll wait. -
io9
Real Ghost Stories
The Haunters & The Haunted: Ghost Stories and Tales of the Supernatural
**********
Channeling Spirits: Religious Heresy or Saintly Practice?
The practice of channeling spirits has been around for thousands of years and has never failed to generate controversy, debate, and countless questions.
More than 500 years ago, a 12-year-old farm girl reported hearing voices and then claimed God was telling her to lead France. Joan of Arc was burned at the stake for heresy, but a church court later found her innocent and she became a saint in 1920.
Several clergy and mental-health experts, when questioned about the channeling of a dead saint, offered diverse opinions.
The Rev. Charles Singler, director of the office of worship for the Toledo Catholic Diocese and rector of Rosary Cathedral, said the church carefully assesses each individual case.
"I'm certain that the church always does an investigation with regard to people who have elocutions or apparitions," he said. "The church doesn't automatically embrace those kinds of things. There are proper channels and processes to go through to understand and legitimize what is happening."
Father Singler said some apparitions have been deemed legitimate by the Catholic Church after investigation, including appearances of the Virgin Mary at Lourdes and Fatima.
Locally, visionary Sally Steadman built a shrine on Coy Road in Oregon where the Virgin Mary speaks regularly through her at public gatherings. The late Bishop James Hoffman declared the visions to be a "private revelation," and neither endorsed nor rebuked them.
The Rev. George Barrett, pastor of Foundation Stone Christian Church in Northwood, said the Bible in Leviticus 19 specifically forbids channeling or calling up spirits.
"Well first of all I believe it's possible," he said. "I know some might not believe that spirits are real and that we as human beings can channel spirits, but in the Bible, the Lord forbid any kind of channeling of spirits."
He cited the biblical book of I Samuel, Chapter 28, in which King Saul orders the Witch of Endor to call up the spirit of the dead prophet Samuel. And in the Book of Acts, Paul cast a spirit out of a slave girl who had been accurately predicting the future.
Mr. Barrett, whose nondenominational Protestant church teaches deliverance of spirits, said he believes people who call up spirits are actually dealing with demonic forces posing as saints.
"Much of Jesus' ministry was casting out demons," he said. "These things are real and we try to help our people understand the spirit realm."
The Rev. Steven Glasgow, of the alternative spiritual group Toledo Light Co-Op, said he has seen Dottie Zimmerman channel Padre Pio and believes that it is "absolutely authentic. There is no doubt in my mind."
"How blown away do you want to be?" Mr. Glasgow said of the process. He said Padre Pio made references to "personal information that nobody knew but me. That's pretty awesome."
Dr. Lurley Archambeau, a Maumee psychiatrist, said psychiatry "needs to be based in science," but it is impossible to use empirical data to prove or disprove paranormal phenomena such as channeling.
"Certainly in our society where a great deal of freedom is allowed, one can think and espouse very odd thoughts and beliefs," he said.
Society's view of spirituality can change over time, he added. The sun's rising each day used to be a mystery and inspired worship, for example.
"The concept of spirituality is something that is beyond our comprehension. It becomes spiritual because I don't understand it," Dr. Archambeau said.
Kevin Anderson, a local psychologist, author, and columnist for the Catholic Chronicle, said he also strives to find a balance between science and mystery.
"I am committed to science but there is an openness. One of my favorite quotes is by Albert Einstein: 'There are two ways to live your life, one is as though nothing is a miracle, the other is as though everything is a miracle.'
"That's coming from one of the greatest scientific minds of all time. If we are skeptical of everything, then we lose a sense of the miraculous," Mr. Anderson said.
Channeling: What It Is and How to Do It
Opening to Channel: How to Connect with Your Guide (Sanaya Roman)
Channeling Your Higher Self
**********
These are PDF file links to the article pages. Simply click the
'Click here to start download from MediaFire'
link and the page will download and appear:
Haunted Magazine - Spirit Rescue International - 1
Haunted Magazine - Spirit Rescue International - 2
Haunted Magazine - Spirit Rescue International - 3
Haunted Magazine - Spirit Rescue International - 4
Haunted Magazine - Spirit Rescue International - 5
Haunted Magazine - Spirit Rescue International - 6
-----
Devil's Pool: Aboriginal legends, mysterious deaths & ghostly images
Family ask to move out of their 'haunted' house
The Mystery of Consciousness
Demon Days: Exorcism is experiencing a renaissance in American Catholicism
Scary whisper in my ear
New church raises the spirit of Conan Doyle...in a way
Night of the Wicked Priest
Video of Ghostly Encounter: Entity Attacks Paranormal Investigator
10 Things that might Indicate your house is haunted
Psychological Effects of Alien Abduction Victims
The Phantom of the Truck Stop
5 Lessons Learned About Surviving Halloween Haunted Houses
Remembering Childhood Experiences
Is 'The Stable' haunted?
Ghostly Stories/ Ancient ET Visitations
The Top Five Most Haunted Places in Connecticut
The Ghosts at Stans
Art of the Anomalous: Does Interest in the Unexplained Promote Artistic Abilities?
Ghost activity heats up at Fort Knox as Halloween approaches
The Greatest Haunted House in America
How To Ground Yourself, Active And Passive Methods
Astral Entities and What They Can Do For You
Creationism and Charles Fort's talking dog
Black-Eyed Supervisor
Paranormal activity: Proof positive?
SPIRIT VOICES: The First Live Conversation Between Worlds
Spirit Voices: The First Live Conversation Between Worlds
- Mark L. Cowden is the audio-visual technician who recorded what is believed to be the first ever documented case of a live, two-way conversation with the spirit world. In early 2010, at an apparently haunted hotel in Northern Ireland, Mark was part of a small team of people who were filming a television documentary series about ghost stories when something incredible happened. While a medium and a psychic investigator sat on a bed in the next room and attempted to contact the spirit of a ghost in the hotel, Mark was able to record not only the medium's side of the conversation—and her report of the responses she was receiving from the spirit—but the spirit's replies directly as well! With camera's rolling, an independent television crew documented the whole process. Not only is this believed to be the first time anybody has ever managed to record a whole conversation between this world and the next, it was also a first for television.
Spirit Voices
documents Mark's work in the field of paranormal forensics and details the technology and methods he developed to achieve such ground-breaking results.
Dusk, Dawn, and the Days of the Dead: Doorways into Other Worlds
-
The Terri Windling Collection
Spirit Rescue International™
Providing no-cost professional spiritual help, personal support and guidance
Take the first step towards genuine peace of mind
The Spirit Rescue International™ Haunted Help Forum
*Join Our Group On Facebook*
Join Eric Altman and Lon Strickler each Sunday at 8 PM ET as we go
Beyond the Edge!
Astral Perceptions - Discussing ultraterrestrial and multidimensional phenomena and the proficiency of remote viewing
Join the
The Social - Paranormal Network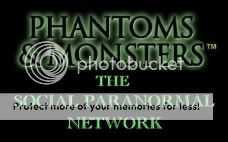 A NETWORK OF INVESTIGATORS, ENTHUSIASTS AND THOSE SEEKING THE TRUTH
THROUGH PARANORMAL EDUCATION AND DISCUSSION
ANOMALIST BOOKS
Works on maverick science, unexplained mysteries, unorthodox theories, strange talents, and unexpected discoveries. Please check out their excellent and diverse catalog
Become a fan of 'Phantoms and Monsters' at Facebook
"The latest news from beyond the mainstream"
Join Ben & Aaron for their weekly podcasts!
Check out Mysterious Universe Plus+ all access format!

Click here to check out Stan's most recent book!
Have you been looking for a great gift?
Instant 15% off your purchase - Use coupon code PH2011
Free shipping - Bonded dealer - PCI certified

Labels: channeling, Esoterica, ghosts, Haunted Magazine, metaphysical, paranormal, Spirit Rescue International, unexplained phenomena
Have you had a close encounter or witnessed something unusual? Send us an email