Where the Ghosts are
A British ghost investigator named Dean James Maynard visited Tarrytown and Sleepy Hollow in the summer of 2005 and called the area "the most haunted place in the world."
Who and where are the ghosts? Here is a guide to the apparitions and places where they reportedly reside. Should you see a ghost or hear about one we haven't mentioned, please let us know.
Ghosts and places where you might encounter them:
1. Washington Irving (1783-1859)
Washington Irving was the first American writer to gain old world respect and recognition for the new world's literature; he bought consciousness of fantasy, ghosts, goblins and the supernatural to American fiction. He experienced periods of gloom and obsession with death during his lifetime. His ghost has been reportedly seen in a window of a bedroom that faces the Hudson River and also in his study located on the east side of the cottage, away from the river.
The Complete Tales Of Washington Irving
19th Century American Literature
)
2. Washington Irving's fiancee Matilda Hoffmanm
Irving's shy and beguiling fiancée is said to haunt a trove of trees from which she watches Irving's cottage. She died on April 26, 1809 at the age of 17 from complications from a cold that led to consumption. Sunnyside
3. The five caring nieces of Washington Irving
They were the daughters of Irving's elder brother Ebenzer. After the visitors are gone, they still tidy the house. Sunnyside
4. The woman who ate green apples
A young woman, suffering from a lost love, wandered through the orchard, ate too many green apples, died and stayed as a ghost according to Washington Irving III, great-great grandnephew of Washington Irving. Sunnyside
5. The Headless Horseman, a mercenary Hessian trooper
Washington Irving's famous character was a mercenary Hessian trooper whose head was blown away by a cannon ball during the American Revolution. He returns at night to the scene of the battle. Take cover if you hear hoofbeats.
The Legend of Sleepy Hollow
6. Abraham Martling, Washington Irving's inspiration for Brom Bones
Old Dutch Burying Ground, Sleepy Hollow
7. Eleanor van Tassel Brush, Washington Irving's model for Katrina
She was the love interest of Ichabod Crane and Brom Bones. Old Dutch Burying Ground, Sleepy Hollow
8. Baltus Van Tassel, father of Eleanor van Tassel Brush
Old Dutch Burying Ground, Sleepy Hollow
9. Samuel Youngs, Washington Irving's model for Ichabod Crane
He was a schoolteacher and later a lawyer. Ichabod Crane was met by the Headless Horseman in the vicinity of Patriot's Park; the route of their chase has been guessed at but the timber bridge has long since been gone. An existing bridge called the Headless Horseman Bridge over the Pocantico River at North Broadway (identified by a metal blue sign with yellow lettering) is not where the encounter took place; this bridge was erected around 1912. Old Dutch Burying Ground, Sleepy Hollow and Patriot's Park, Tarrytown
10. Henry Hudson and his Half Moon crew
The ghosts of Henry Hudson and his crew play ninepins upstate at Kaaterskill Falls where Rip Van Winkle napped for 20 years and missed the American Revolution. That's a long trip but visitors can see the bronze statue of a reclining life-size Rip Van Winkle in Irvington. Hudson's crew haunts Kaaterskill Falls in the Catskill Mountains. The statue however is on Main Street next to the town hall in Irvington, NY.
11. Revolutionary War Major John Andre
Major John Andre was caught by three American militiamen with papers describing the defenses at West Point. His conspiracy with Benedict Arnold exposed, he was sentenced to death by hanging. Angry at both the Americans for denying his request to be executed by firing squad and the British for refusing an offer of exchange for Benedict Arnold, he died in a rage. His ghost is said to roam Patriot's Park where he can be heard reciting a poem he penned that was published in the Riverton's Gazette on the day he was captured. In the poem, he wrote, "What hero could refuse to tread the rugged path to fame." Patriot's Park, Tarrytown.
12. Brigadier General Anthony Wayne
General Anthony Wayne, who carried out the order to hang Major Andre, was the commander of the American forces assigned to patrol the Hudson River. His ghost is said to haunt the riverfront but out of respect for Andre's ghost, it carefully avoids Patriot's Park. Tarrytown and Sleepy Hollow waterfronts.
13. Hulda the Witch
An immigrant from Bohemia, shunned and feared by her Tarrytown neighbors, she fired on British troops with deadly accuracy during the American Revolution. After killing many redcoats, she fell mortally wounded. Later, her neighbors discovered a will in her home leaving her money and possessions to the widows of patriots who died during the war. Old Dutch Burying Ground, Sleepy Hollow
14. Captain Kidd (1654-1701)
A notorious pirate whose gold and buried treasure is still sought, some of which may have been buried along the Hudson River. His ship stopped at or near Tarrytown where he had dealings with wealthy local merchants. He was hanged by the British on May 23, 1701. Exact locations unknown
15. The crew of Captain Kidd's pirate ship, the Adventure Galley
When Captain Kidd buried gold and other loot, his crew members drew lots. The losers were killed and their bodies were placed on on top of the treasure chests to repel intruders. As ghosts, they remain fierce sentries destined to guard Kidd's treasures forever. Exact locations unknown
16. A woman mistaken as Captain Kidd's bride
She was captured in Tarrytown, tried for piracy and executed. She is believed to be either a traveler who booked passage to Tarrytown looking for work or or a slave or servant intended for a rich merchant. Her ghost proclaims her innocence as she waits for the vessel that brought her to Tarrytown believing it is coming to her rescue. Tarrytown's river edge
17. The pirate whose skull was battered by Captain Kidd
In a fit of rage, Captain Kidd killed a member of his crew by striking him with an iron water bucket. Kidd was hung for the murder of this sailor, not for piracy. Tarrytown's river edge
18. An intoxicated villager
He was a local resident who lost his balance and drowned while attempting to navigate his rowboat across the Tappan Zee; boaters say he often waves to passing vessels. Tarrytown waterfront
19. Five young women slain by a mad monk
Five innocent young women, believed to be virgins, died at the hands of a mad monk. Tarrytown near Sunnyside cottage
20. The mad monk accused of murdering the five young women
Before he could be tried, the monk was killed by a house servant, the lover of one of the five women, who then sealed the monk's body in the manor's walls. The house was owned by John Jacob Astor, a close friend of Washington Irving and at one time, the richest man in America. Tarrytown near Sunnyside cottage
21. The Armour-Stiner house's odoriferous guest
This ghost exudes an "exquisite and unidentifiable fragrance" according to a passage in a book written by poet and historian Carl Carmer, best known for his autobiographical book, "Stars Fell on Alabama." The ghost's identity is unknown but it is believed to be either Aleko E. Lilius, a Finnish writer and explorer, or the woman he cohabited with, a 20th-century lady pirate who made a fortune plundering vessels in the China Seas. Theories have also arisen that the ghost is Paul J. Armour, the New York banker who built the house in 1860, or Joseph Stiner, a wealthy tea merchant who bought it in 1872. An eight-sided domed and colonnaded structure in Irvington built in 1860 and resembling a classic Roman temple
22. Sybil Harris King, known as "the apparition in white"
She was the daughter of Benjamin Newton Duke, co-founder of the American Tobacco Company. She has been heard pacing up and down the second-floor hallways of the King House in Tarrytown. She was married to Frederick King, son of Thomas King, vice president of the Baltimore & Ohio Railroad, the country's first major railroad. She died in 1955. Located on the grounds of the 26-acre Tarrytown House Estate and Conference Center
23. The woman who froze to death at Raven Rock
She lost her way during a storm and became trapped by blinding snowdrifts in the hill behind the rock. Her wailing, similar to the sound of the wind, warns travelers not to seek safety here. Raven Rock, a precipitous outcrop on Buttermilk Hill located on the Rockefeller estate
24. The Indian maiden who died at Raven Rock
She fell or leaped to her death from Raven Rock when pursued by Tory raiders. In another version of this story, it is said she was fleeing a jealous admirer. Raven Rock, a precipitous outcrop on Buttermilk Hill located on the Rockefeller estate
25. The engineer of Lincoln's funeral train
It is said that once a year in April, a 14-car black funeral train with a ghost at the throttle sounds a deafening whistle as it approaches Sunnyside. The piercing sound wakes Irving's ghost as the train chugs toward Tarrytown carrying Abraham Lincoln's body, just as his funeral train did in 1865 when it traveled from New York City to Buffalo and eventually to Springfield, Ohio, Lincoln's final burying place. Sunnyside cottage -
tarrytown.patch
Washington Irving : History, Tales, and Sketches: The Sketch Book / A History of New York / Salmagundi / Letters of Jonathan Oldstyle, Gent. (Library of America)
19th Century American Literature
)
The Spirit Rescue International™ Haunted Help Forum
*Join Our Group On Facebook*
**********
The Haunted House of Laguna
It used to be a brothel, or so they say.
The old white building sits on the hill like in "
The Shining [Blu-ray]
," cavernous and creaky, with long dark hallways and strange apartments. It is the Arch Beach Tavern, built in 1915 to house people from the movie industry.
Just like in "The Shining."
Indeed, it is an odd place where mystery abounds. There are blank doors with no handles and light switches with no switches. When you walk into the lobby, an empty rocking chair sits ominously in the corner looking at you, waiting to move with an unseen breeze.
Put it this way: On Halloween in Laguna Beach, Oak and Brooks streets get all the attention, but no one trick-or-treats at this house, perhaps because it's too scary.
"Nobody ever comes up to the building," said Briandy Walden, a 10-year resident. "The building itself can be kind of creepy. The carpet used to be red."
Walden tells stories about mysterious sightings on the third floor, the backyard garden and the unexplained sounds.
"People have said they've heard and seen things, but I haven't," she said, fidgeting and glancing over her shoulder.
Located at 2180 Catalina St., the building can make you jumpy.
In fact, according to postings on the Ghosts of America website, out of all the ghost sightings in Laguna, this building has the most stories.
"Two residents have reported seeing a little girl playing on the balcony at night behind the building on the third floor," wrote Ryan, who did not give his last name, on the website. "Another 12-year resident reported hearing digging going on in the laundry room, but the floor is cement, and the digging sounded like a shovel into gravel and dirt."
There have been several other mysterious reports, according to the site.
"I have lived at 2180 Catalina (bottom level) in Laguna Beach and have witnessed several different ghost sightings in the years that I've lived here," wrote Nikki. "Mostly seeing an older woman with white, short perm-style hair in my kitchen and standing over my bed.
"When I first moved in I woke up to what I thought was a nightmare but clearly was not; I saw a woman in old-style courtesan clothing. She had curly long dark hair and was wearing old-fashioned lingerie. She was scratching at me and telling me to 'get out.' I had actual marks on my arms, so this was very real! I remember she had long red-painted nails."
Red. It's always red. -
coastlinepilot
**********
About seven years ago, my cousin Julie and her husband Mark moved back to New Jersey from South Carolina. After months of searching, they found a great house in West Milford, New Jersey. Julie, who I grew up with, called me and asked me to meet them at the house and let them know my opinion.
After checking out a map online, I saw the home was on a street just off
Clinton Road
north of Route 23. I drove up Green Pond Road, got onto Route 23, and then turned right onto Clinton Road. Almost immediately, I noticed that Clinton Road was different from almost all the roads in New Jersey.
There were no homes along the road and no connecting roads. Clinton Road was very curvy and kept winding around between different bodies of water. At one point, I saw what looked like shack off to the right along a dirt driveway, and later on, I saw an old kiln by the road. But other than that, there was nothing along Clinton Road. Isolation was the word that came to my mind to describe the road.
After about 10 miles, I reached the street off Clinton Road where the house was. The house was great, with four bedrooms, three bathrooms, and a finished basement. It was perfect for Julie, Mark, and their kids. While looking at the house, I mentioned how creepy Clinton Road was. Julie's realtor shot me a look and looked like she wanted say something not particularly nice to me, but she said nothing.
On the way home, I went down Clinton Road just as it was getting dark. I had not gone more than a couple miles down the road when headlights appeared out of nowhere behind me. The headlights came right up behind me and then backed off. I was not in a hurry, so I slowed down and put my blinker on to let the vehicle pass, but the headlights also slowed. The headlights kept following me down Clinton Road until I got near Route 23, and then suddenly, the headlights disappeared.
A few weeks later, Julie invited me and another cousin of ours, Mike, back to the house. They had made an offer on the property, and it was accepted, so they were having a little party one night after work. Mike and I drove up Clinton Road to get to the house. Within a mile of turning on Clinton Road, headlights again appeared out of nowhere and rushed up to us, but then backed off. I told Mike the same thing happened the first time on the road.
The headlights kept following us, and I was keeping an eye on them in the rearview mirror when Mike shouted, "Look out!" I hit the brakes and saw something like a giant white rabbit running off into the woods. Mike asked what it was, and I told him it was likely an albino deer. I had worked at the fenced-in Hercules complex in Roxbury, New Jersey, for a few years, and there was an albino deer on the grounds then. It would look like a lot of different things when it ran around at night.
As we finally approached some lights in the distance, the headlights behind us vanished as if they were never there. We went into the house and it was pretty cold, as the heat didn't work. Mike told everyone about the headlights and the creature that ran in front of us on Clinton Road. One of the neighbors Julie and Mark had met and invited over, John, came over at the mention of Clinton Road.
"Clinton Road," he said, "is the most haunted road in America." John told us he had lived in West Milford his whole life and that Clinton Road was to be avoided at all costs. He told us a frozen dead body had been found along the road a few years ago. Clinton Road was where the mob dumped their dead bodies. He said that Satan worshipers would also gather along the road and then row out to an island in the middle of one of the lakes and perform satanic rituals.
Weird N.J. Presents: Tales From Clinton Road (Weird N.J., The Roads Less Traveled Series)
He also said that strange creatures lived along Clinton Road. They were the result of interbreeding between the local animals and the wild animals that escaped from Jungle Habitat, which was a wild animal amusement park located in West Milford that was run by Warner Brothers in the 1970s. After Warner Brothers closed the park in late 1976, they were rumored to have let a lot of the animals just go into the local woods rather than pay to have them transported somewhere else.
He told us the headlights we had seen were from ghosts that would appear out of nowhere and follow cars along the road at night. That's why the headlights suddenly appeared and disappeared. Mike and I laughed at what the neighbor told us, but we also asked him for another road to take out of there. He told us to take Union Valley Road, which paralleled Clinton Road and was not haunted.
When I got home that night, I went on the Internet and typed in "Clinton Road" in Google. I was amazed to find that Clinton Road was pretty famous as a haunted road. The frozen dead body story was true, the result of a serial mob killer nicknamed The Iceman who used to freeze his victims before dumping them. Jungle Habitat in West Milford was also real. I found tons of stories relating how terrifying Clinton Road is online. The Travel Channel did a show about Clinton Road, calling it the most terrifying road in America. Others have made scary videos about Clinton Road and posted them on YouTube.
In the end, Julie and Mark did not buy the house in West Milford because the home inspection turned up too many problems, including the heating problem. I was relieved to hear that because I did not want to have to travel along the most terrifying road in America, Clinton Road, to see them. But for anyone out there who wants to be scared to death, Clinton Road can be reached right off Route 23 in Newfoundland, New Jersey. The road runs about 10 miles between Newfoundland and West Milford.
If you do drive along Clinton Road though, you do so at your own risk. It is just a creepy, scary, isolated road. You have been warned by someone who has been there. -
yahoo
Haunted New Jersey: Ghosts and Strange Phenomena of the Garden State
Supernatural Books
)
Ghosthunting New Jersey (America's Haunted Road Trip)
Parapsychology Books
)
Spooky New Jersey: Tales of Hauntings, Strange Happenings, and Other Local Lore
Mythology Books
)
Look for the SPIRIT RESCUE INTERNATIONAL Exclusive
in the Halloween Edition of HAUNTED MAGAZINE
-----
A Dowser at Ocmulgee Mounds
Encounter With a Golem
Don't Steal From The Dead
Fed-funded research: magic mushrooms create 'openness'
Is This 13th Century Cottage Haunted With Orbs
Ghostbusters called in to unravel pub's mysteries
Psychology's Magician
Haunted by the Blue Eyed Six?
5 Haunted Hotels for Halloween 2011
Downton Abbey set 'haunted'
Pub's ghosts are modern day spooks say experts
Potential New Drugs From A Cup Of Tea - The Witch Doctors' Gift
How to report paranormal activity
The Amazing Saga of Dr Eben Alexander III
The Art of Thoughtography: Creating Visual Impressions with the Mind
What are ghosts?
Black-Eyed Kids in North Dakota
The Witches of Design Toscano
The Haunted Hotel Galvez
Pere Lachaise Cemetery Ghost
Peru shaman murders investigated
The Ghost Face of the USS Arizona
Ouija Terror: I Am Zozo....
Haunted Hotels: 21 Spooky American Overnights
Mad Gassers
Biltmore Hotel Haunted by Gangsters and WWII Soldiers
The X Factor house is haunted
Aboriginal Stonehenge: Stargazing in ancient Australia
Spirit Rescue International™
Providing no-cost professional spiritual help, personal support and guidance
Take the first step towards genuine peace of mind
Join Eric Altman and Lon Strickler each Sunday at 8 PM ET as we go
Beyond the Edge!
Astral Perceptions - Discussing ultraterrestrial and multidimensional phenomena and the proficiency of remote viewing
Join the
The Social - Paranormal Network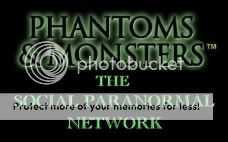 A NETWORK OF INVESTIGATORS, ENTHUSIASTS AND THOSE SEEKING THE TRUTH
THROUGH PARANORMAL EDUCATION AND DISCUSSION
ANOMALIST BOOKS
Works on maverick science, unexplained mysteries, unorthodox theories, strange talents, and unexpected discoveries. Please check out their excellent and diverse catalog
Become a fan of 'Phantoms and Monsters' at Facebook
"The latest news from beyond the mainstream"
Join Ben & Aaron for their weekly podcasts!
Check out Mysterious Universe Plus+ all access format!

Click here to check out Stan's most recent book!

Labels: Esoterica, ghosts, haunted locations, haunting, paranormal, unexplained phenomena
Have you had a close encounter or witnessed something unusual? Send us an email