Five years ago this summer, the attention of the world focused on the farm fields of Clarence -- for one big, hairy reason.
Bigfoot.
Hans J. Mobius, a Clarence farmer and horseman, claimed he saw a hulking apelike creature while out working on his 100-acre farm. He supplied photos as proof. Remember those images of a furry black monster standing next to Mobius' John Deere Gator?
For a moment, monster-hunters around the globe turned their attention to Western New York.
Now, five years later, the excitement has largely died down. Mobius said he still gets inquiries about his Bigfoot sighting -- but not nearly as much as when it first happened.
"It went around the world. I had people from Australia calling me, from all over the world," Mobius said. "There are people that are very interested. They believe there is a sasquatch around. They wanted to see my property."
"I kind of liked the activity," he said. "It's quiet out here."
Today Mobius maintains he doesn't know -- or even much care -- whether that was Bigfoot he saw five summers ago, or a creatively dressed prankster.
"If it was real, I really saw one," he said, matter-of-factly. "And if it wasn't -- it wasn't."
But one thing is certain: His experience with the "Clarence Bigfoot" is not out of the ordinary for Western New York.
In our region's history, there have been claims of sea serpents and lake monsters, ghosts and goblins, and -- yes, more than once -- yeti-like creatures of unusual size.
Western New York seems to be chock-full of monsters and mysteries, if you know where to look.
It's also full of people who believe these stories and think they have meaning.
As well as people who scoff at the tales -- and say we're only fooling ourselves.
The Clarence Bigfoot
Mobius' brush with the large biped covered in black fur is typical of monster stories in Western New York.
First of all, it makes a great tale. A senior citizen farmer runs into sasquatch while surveying a stand of trees and happens to take pictures? Great legend material there.
It's also the type of story that inspires both skepticism and credulity.
Mobius' farm was visited by Bigfoot-hunters from the West Coast, who came to town to film the farm site and their search for the creature there.
Others, including Mason Winfield, a local author on supernatural and paranormal subjects, point out that there have been yeti- or sasquatch-like sightings in Western New York before, for instance, in the Southern Tier.
But one of Western New York's well-known investigators of the paranormal, Joe Nickell, a former magician and private investigator, said the Clarence Bigfoot is more than likely a case of "Big Suit."
In other words: After investigating the facts, Nickell says the safe bet is that the Clarence sighting was of a man wearing a large ape suit. Whether someone was trying to prank Mobius, or there is some other explanation for why the sighting happened where it did, Nickell said it may be difficult to ever tell.
"I don't make any accusations -- but that is definitely a man in a suit," said Nickell, who delves into the case in a new book, "Tracking the Man-Beasts: Sasquatch, Vampires, Zombies and More," out from Amherst's Prometheus Press.
Nickell said you don't have to be a full-time paranormal investigator, as he is, to deduce something about the Clarence Bigfoot.
"If there are photographs that look like a man in a suit, that's as far as you have to go," Nickell said. "If the pictures look fake, it's likely fake. That's as far as I need to go -- until someone provides some further information."
Silver Lake serpent
The facts of the Silver Lake serpent are simple, yet shiver-inducing. In 1855, dozens of residents of the area around Silver Lake in Wyoming County reported seeing a giant, snakelike creature in the placid waters of the lake. The serpent surfaced so many times that summer that tourists began to visit the village of Perry hoping for a glimpse Ñ and the local newspaper even ran a special "Serpent Edition," reporting details of the various sightings.
After that, the serpent disappeared. In 1857, a local hotel burned down, and some material discovered in the attic -- coils of wire and canvas, according to some reports -- were thought to be the remains of the celebrated monster.
The question remains: a hoax or no?
Nickell said he doesn't believe the story of the serpent -- but he doesn't believe the story of the elaborate hoax, either.
"It just wouldn't have worked," he said. He posits a different theory: otters swimming in the lake -- which he thinks would have been unfamiliar enough to residents in 1855 to be mistaken at a distance for one large snake.
Winfield, an author of numerous books whose new volume, "Iroquois Supernatural," will be published this fall by Vermont's Bear & Company press, said the skepticism over the Silver Lake serpent may be well-founded. "Silver Lake was almost certainly a hoax," he said.
But, said Winfield, there are other long-standing stories of water monsters in the area --from both Native American and other sources -- that aren't so easily explained.
"Many of the lakes in Western New York have some kind of a serpent legend," Winfield said. "Canandaigua, Seneca, Cayuga, even some of the smaller ones. Sometimes, whites see things that Native American sources say used to be there Ñ and whites didn't know the legends."
Whatever the true story of the serpent's origin, Wyoming County tourism officials said there's no doubt the slithery creature was good for business.
"It was really big news in the 1800s when it happened -- there were articles as far away as the Chicago Tribune," said Meghan Stearns, director of tourism and marketing at the Wyoming County Chamber & Tourism office. "There was a lot of tourism at the time related to the sea serpent. That's what Perry was known for across the Northeast: the Silver Lake sea serpent."
Today, Stearns said, Perry and Silver Lake are trying to recapture interest in the old snake story, to boost the community's profile.
"It kind of died down for a little bit, lost some interest," she said. "They're trying to find ways to bring the sea serpent back Ñ to bring that story back again."
The Lake Erie monster
Lake Erie, a relatively shallow body of water, wouldn't seem to be a setting that would inspire monster lore. And yet the lake has had its share of "lake monster" sightings, stretching back to the very beginnings of recorded history in the city.
The creature even has a name: Bessie.
"There are tremendous serpent legends from Lake Erie," said Winfield. "There have been sightings for at least 200 years. They come from all the old papers."
One major year for sightings was 1817, said Elizabeth Burns, a University at Buffalo graduate student in history who is writing her doctoral dissertation on sea serpent stories.
In that year, people claimed to have seen a large serpentlike monster in Lake Erie near Buffalo; there were also many reports that year of serpent sightings in New England, particularly at Gloucester, said Burns.
There were some differences in the sightings, she said.
"You had hundreds of people who saw the New England sea serpent, whereas the numbers in Lake Erie were much less," said Burns, who lives in North Buffalo. "Because of that, the Lake Erie [serpent] is a little scarier. We don't really know what we're dealing with."
Sharen Trembath, a lake expert and coordinator of the Western New York portion of the Lake Erie Beach Sweep each fall, said she wonders if some of the "monster" stories surrounding Lake Erie weren't really sightings of a much more prosaic kind of fish: a giant sturgeon.
That antique species of fish could grow to more than 6 feet long, Trembath said.
Burns, a Salt Lake City native, said she has spent plenty of time pondering the reasons people report "serpent" sightings in bodies of water.
"The temptation is to say mass hysteria," she said.
But that doesn't seem to fit the entire situation, whether the case happens to be New England or Lake Erie, Burns said.
"The thing is, it keeps happening, year after year," she said. "Big hotels go up to support the hunt. That doesn't sound like mass hysteria to me.
"The fact of the matter is, it was undoubtedly real to these people." -
buffalonews
-----
The Clarence Bigfoot
Hans Mobius swears up and down that last weekend, he saw – and photographed – a bizarre beast covered from head to toe with dark hair that walked on two legs, near a patch of dense woods on his 100-acre horse farm in Clarence.
Scientists and experts in wildlife, photography and Bigfoot say the photos are clearly phony.
"It's obviously a man in a suit," said Dr. D. Jeffrey Meldrum, an assistant biological sciences professor at Idaho State University, who specializes in anatomy, evolutionary morphology, primatology and paleontology and has written extensively on Sasquatch footprints. Meldrum pointed out that the head is proportioned like that of a human being. He also pointed out the short, un-apelike arms.
"Look at the forearms," he went on. "There's not natural taper at the wrist. It looks like a sleeve transitioning into a glove."
The hair, he added, "looks unnatural." "It disperses light like artificial fur would."
He also said that the series of photos show the creature standing in one spot while moving back and forth, rather than quickly running away.
"That raises real questions about the credibility of the photos," Meldrum said. "Is someone pulling a prank on him? Or is it him having a laugh, just killing time at others' expense?"
Hoaxes make the serious study of possible Bigfoot-type animals extremely complicated, Meldrum said.
"It's frustrating when people intentionally muddy the water with this type of thing," he said. "It gives the entire question a rather dubious character and that's the biggest struggle: trying to promote serious interest in what I see as a large number of credible incidents in the forms of footprints and inexplicable hairs and things like that." -
Sharon Cantillon/Buffalo News - May 31, 2006
Spirit Rescue International™
Providing no-cost professional spiritual help, personal support and guidance
Take the first step towards genuine peace of mind
The Spirit Rescue International™ Haunted Help Forum
*Join Our Group On Facebook*
Join Eric Altman and Lon Strickler each Sunday at 10 PM ET as we go
Beyond the Edge!
ANOMALIST BOOKS
Works on maverick science, unexplained mysteries, unorthodox theories, strange talents, and unexpected discoveries. Please check out their excellent and diverse catalog
Become a fan of 'Phantoms and Monsters' at Facebook
"The latest news from beyond the mainstream"
Join Ben & Aaron for their weekly podcasts!
Check out Mysterious Universe Plus+ all access format!
Astral Perceptions - Discussing ultraterrestrial and multidimensional phenomena and the proficiency of remote viewing

Click here to check out Stan's most recent book!
Join the
The Social - Paranormal Network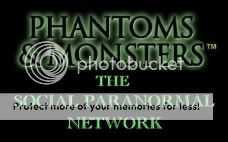 A NETWORK OF INVESTIGATORS, ENTHUSIASTS AND THOSE SEEKING THE TRUTH
THROUGH PARANORMAL EDUCATION AND DISCUSSION
Need an unique special occasion or business gift?
(410) 241-5974

Amazing technology that allows us to print almost anything in light!
Click to order John Ventre's new book
Phantoms and Monsters
Now Available on Kindle
Labels: bigfoot, Clarence Bigfoot, cryptozoology, hoax, New York
Have you had a close encounter or witnessed something unusual? Send us an email