In the summer of 1725 a peculiar youth was found in the forest of Hertswold near Hameln in northern Germany. Aged about 12, he walked on all fours and fed on grass and leaves. 'A naked, brownish, blackhaired creature', he would run up trees when approached and could utter no intelligible sound. The latest in a long line of feral children – in turn celebrated, shunned and cursed through the ages – 'The Wild Boy of Hameln' would be the first to achieve real fame.
After a spell in the House of Correction in Celle, the boy was taken to the court of George, Duke of Hanover and King of the United Kingdom, at Herrenhausen. There the young curiosity was initially treated as an honoured guest. Seated at table with the king, dressed in a suit of clothes with a napkin at his neck, he repelled his host with his complete lack of manners. He refused bread, but gorged himself on vegetables, fruit and rare meat, greedily grasping at the dishes and eating noisily from his hands, until he was ordered to be taken away. He was given the name of Peter, but was variously known as 'Wild Peter', 'Peter of Hanover', or, most famously, 'Peter the Wild Boy'.
In the spring of 1726, after briefly escaping back to the forest, Peter was brought to London where his tale had aroused particular interest. As in Hanover, he caused a sensation and his carefree nature provided an amusing antidote to the stultifying boredom and decorum of court life. He appealed especially to Caroline, Princess of Wales, who persuaded the king to allow Peter to move to her residence in the West End, where he was kept virtually as a pet. Though he insisted on sleeping on the floor, he was dressed carefully each morning in a tailor-made suit of green and red. He was also appointed a tutor, who had him baptized and taught him to bow and kiss the hands of the ladies at court.
Peter quickly became a celebrity. On one level, tales of his antics busied the London gazettes. Jonathan Swift, whose fictional 'Yahoos' Peter appeared to personify, noted sourly that 'there is scarcely talk of anything else'. He was soon the 'talk of the town', his portrait graced the walls of the King's Grand Staircase at Kensington Palace and an effigy of him was erected in a waxworks on the Strand.
Peter could not to live up to the popular interest invested in him and a fickle public quickly abandoned him in favor of the next unfortunate. His academic progress also failed to match his earlier promise. He was declared 'unable to receive instruction', despite the attentions of 'the ablest masters'. He could say nothing beyond his own name and a garbled form of 'King George'. By 1728, his tutor had given up his efforts and Peter was retired to the country. A home was found for him on a farm near Northchurch in Hertfordshire and a generous crown pension of £35 per annum was supplied for his upkeep. The 'talk of the town' became a humble farm hand.
Though still only an adolescent, Peter faded into provincial obscurity and thereafter rarely troubled the gossip columns. He developed a taste for gin and loved music, reportedly swaying and clapping with glee and dancing until he was exhausted. But he never learned to speak and his lack of any sense of direction gave cause for concern. In 1745, the year of the Jacobite Rebellion, he was arrested as a suspected Highlander and, six years later, he wandered as far as Norwich, where he was thought to be a Spanish subversive. As a result he was fitted with a heavy leather collar bearing the inscription: 'Peter, the Wild Man of Hanover. Whoever will bring him to Mr Fenn at Berkhamsted, Hertfordshire, shall be paid for their trouble.' He died, aged around 72, in 1785.
The 19th-century German anthropologist Johann Friedrich Blumenbach (1752-1840) then rather spoiled the intellectual party. Examining contemporary accounts, which suggested that Peter had been tonguetied (hence his inability to speak) and had webbed fingers on one hand (a common corollary to mental impairment), he concluded that 'the Wild Boy' was most probably mentally retarded. If this was the case, he argued, it would help to explain Peter's peculiar origins.
Rather than being a genuine 'feral child' then, Peter was most probably abandoned, possibly only weeks before his discovery. Most importantly, however, if he had been mentally disabled, then all the noble theories of development and socialization which relied on his example were rendered lame. The 'noble savage' had been a simple charity case, worthy of pity certainly, but not philosophical inquiry.
Feral children have always aroused man's fascination. But when Peter stumbled out of the forest in 1725 he encountered a world in intellectual ferment. Inspired by the Light of Reason and the Scientific Revolution, Europe's new secular intelligentsia was examining the world anew after centuries of obscurantism and superstition. An army of frustrated empiricists, they submitted everything and everyone to rational investigation. To them, Peter was a godsend: 'the very Creature which the learned World have … pretended to wish for'. In a sense, the philosophers of the Age of Reason had met their match. They were faced with a man who did not make sense. But, for all their theories, it did not occur to them that he could not make sense – that there was no 'sense' to make.
Whatever his ailments, Peter was not forgotten by the royal court. His keep was paid by the crown for nearly 60 years through three reigns and when he died a brass tablet was erected to his memory at royal expense. But Peter was no more loquacious in death than he had been in life. He was given a prime spot in the graveyard at Northchurch, close to the south porch, and his rough-hewn stone, now shaded by an unruly dog rose, reads simply: 'Peter the Wild Boy – 1785'. -
excerpts from 'History Today' - Roger Moorhouse - 6/2010
-----
Peter the Wild Boy's condition revealed 200 years after his death
The condition that affected Peter the Wild Boy, a feral child found abandoned in a German forest and kept as a pet at the courts of George I and II, has been identified more than 200 years after his death.
Peter's charming smile, seen in his portrait painted in the 1720s by William Kent on the king's grand staircase at Kensington Palace, was the vital clue.
Lucy Worsley, the historian at Historic Royal Palaces who has been researching Peter's strange life, suspected from contemporary accounts that he was autistic.
She showed the portrait and gave the description of his physical characteristics and odd habits to Phil Beale, professor of genetics at the Institute of Child Health.
Beale ran the symptoms through his database of chromosomal disorders, and came up with a diagnosis of Pitt-Hopkins syndrome, which was identified in 1978, centuries after Peter's death.
Its most distinctive effect is clearly shown in Peter's portrait, his curvy Cupid's bow lips.
Other Pitt-Hopkins symptoms shared by Peter included short stature, coarse hair – the portrait shows him with a thick, curly mop – drooping eyelids and thick lips.
He was also said to have two fingers fused together, which may have been clubbed fingers, also sometimes a symptom.
His mental development would also have been affected. Together his symptoms explain to Worsley – who will discuss the discovery on the BBC Radio 4 Making History programme on Tuesday – how he ended up alone and naked in a forest.
"Certainly this was enough to explain why he was abandoned by his family, and once captured in the forest like a wild animal, why he was thrown into the local house of correction with the vagrants and thieves," said Worsley.
"He was actually quite lucky that King George I heard about him, and summoned him to court, even though there he was treated like a performing dog rather than a damaged little boy."
Worsley uncovered Peter's history while researching the courtiers and royal servants who appear in Kent's wall painting at Kensington Palace for her book Courtiers, published last year. The last piece of the puzzle has been solved now.
Worsley says she has been fascinated by Peter, who capered like Shakespeare's Puck in the solemn and etiquette stifled court. The servants had difficulty persuading him to walk instead of scuttling about on hands and knees, to sleep in a bed and to wear his green suit and red socks – he was terrified when he first saw a man taking off stockings, believing he was peeling off his skin.
George I gave Peter to his daughter-in-law Caroline, who was interested in science and philosophy, at a time when debate was raging about nature versus nurture, rational intelligence and the soul. He lived on at court when she became Queen.
Although he was treated kindly by his guardian, the Scottish doctor John Arbuthnot – by his side in the painting – he never learned to speak more than his name, and he wore a brass collar like a slave or a dog so he could be restored to his "owners" if he wandered off.
When he first came to England he was a media sensation in Georgian London, the subject of newspaper articles, poems and ballads – often satirising the extravagance and tortuous etiquette of the court. One mockingly described him as "The Most Wonderful Wonder that ever appeared to the Wonder of the British Nation".
When Jonathan Swift – suspected as co-author of the wonder pamphlet – was called to meet Caroline, he commented that since she was interested in a wild German boy, she also wanted to meet a wild Irish cleric.
Peter long outlived his royal patrons, and after Caroline's death in 1737 was sent to live on a farm in Hertfordshire owned by a retired courtier, where he lived into his 70s on a pension of £35 a year. He was buried in the churchyard of St Mary's at Northchurch near Berkhamsted, Hertfordshire. His simple gravestone reads: "Peter the Wild Boy 1785".
Worsley said: "He was a famous figure in Georgian times and he hasn't been forgotten today, people still lay flowers on his grave.
"It's hugely satisfying to winkle another secret out of the painting, which I've been obsessed with for some years now." -
guardian
NOTE: I find the following narrative interesting and very telling of the period: To the thinkers of the 'Age of Reason', Peter represented a blank slate. As humanity in its 'raw' state, he was what Jean-Jacques Rousseau called 'the noble savage', man 'unspoilt' by society and civilization. He was indeed a fascinating subject, but he provoked further, disquieting, inquiry. He was undoubtedly human but, lacking speech and socialization, could he be classed as a man? Could he have a soul? Could he possess the power of thought?

Even though anthropology and the science of the human mind were in an early state at that time it makes one wonder how many people in our 'civilized' society (in particular those with power and wealth) still assume that those less fortunate, either physically or socially, should be seen and treated as secondary 'persons' who merely take up space.

I think we all know the answer...Lon
Spirit Rescue International™
Providing no-cost professional spiritual help, personal support and guidance
Take the first step towards genuine peace of mind
The Spirit Rescue International™ Haunted Help Forum
*Join Our Group On Facebook*
Join Eric Altman and Lon Strickler each Sunday at 10 PM ET as we go
Beyond the Edge!
ANOMALIST BOOKS
Works on maverick science, unexplained mysteries, unorthodox theories, strange talents, and unexpected discoveries. Please check out their excellent and diverse catalog
Become a fan of 'Phantoms and Monsters' at Facebook
"The latest news from beyond the mainstream"
Join Ben & Aaron for their weekly podcasts!
Check out Mysterious Universe Plus+ all access format!
Astral Perceptions - Discussing ultraterrestrial and multidimensional phenomena and the proficiency of remote viewing

Click here to check out Stan's most recent book!
Join the
The Social - Paranormal Network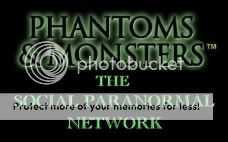 A NETWORK OF INVESTIGATORS, ENTHUSIASTS AND THOSE SEEKING THE TRUTH
THROUGH PARANORMAL EDUCATION AND DISCUSSION
Need an unique special occasion or business gift?
(410) 241-5974

Amazing technology that allows us to print almost anything in light!
Click to order John Ventre's new book
Phantoms and Monsters
Now Available on Kindle
Labels: anthropology, feral children, Germany, UK
Have you had a close encounter or witnessed something unusual? Send us an email