Unidentified flying objects, little green men, spirits of those who passed away and legends of haunted houses don't interest Marc DeWerth because he's never encountered any of them. What does interest Marc is Bigfoot, because he claims he's seen one and that it was right here in Ohio.
Marc is an Ohio Bigfoot Investigator and is affiliated with the Ohio Bigfoot Organization. Not nearly as elusive as Sasquatch, Marc made an appearance in Fostoria to speak at the Rotary Club about his "time-consuming hobby."
"Bigfoot is about being passionate about it," Marc said.
And he is. While he has had an interest in the creature since he was a teenager, his sighting came in 1997 while hunting for badger dens.
"I always said if I ever saw one, I'd walk right toward it, but if you saw what I saw..." Marc remembered.
Marc said the creature, covered in black fur, paced him as he was walking back to his vehicle. When he saw it, he tried to get a camcorder out to record it, but was unable to get as much evidence as he wanted. However, he did see the creature bump into a branch with its head.
Later, when he returned to the area with some friends, he found the branch by locating the markers he had left to indicate where he saw the creature. The branch was measured at 8 feet 11 inches off the ground.
Because of his background in zoology, Marc said he was interested in the creature for a variety of scientific reasons and decided to contact the Muskingum County Watershed District. To his surprise, the person he spoke with wasn't surprised about Marc's discovery. In fact, the representative claimed there had been numerous sightings in that area within the past 20 years of not only the black creature, but a red-furred one, as well. The reddish creature was assumed to have been a female, according to Marc, due to its smaller size.
"People are seeing stuff and it's stuff you can't explain," Marc said.
Whether a person catches a glimpse of something in a wooded area, sees something cross in front of their vehicle or sees something looking into their window, there is still very little physical evidence.
"Sometimes you start questioning yourself," Marc said.
Marc explained for all the calls and reports he hears, only about 10 percent of them are somewhat legitimate. He believes in Bigfoot without a doubt, but said the 90 percent of the reports that are hoaxes or jokes dilutes the genuine few reports.
While Marc saw the creature in southern Ohio, there has also been a report of a Bigfoot in Fostoria, near Van Buren Road. According to the Bigfoot Field Researchers Organization's web site, a report came in to them from June 1993. Because of the dry weather, according to the report, wildlife came toward town to drink from either the creek or reservoirs.
"From what seemed to come from the creek and reservoirs area was an eerie cry that sounded like a sick cow. This cry so primal and terrifying it made the hair on the back of both of our necks stand strait[sic] up with fear. Instantly the birds were mostly quiet, their singing replaced by the sound of every dog with in a mile radius, barking wildly at the top of its lungs. My father, a veteran hunter of Michigan, Pennsylvania, Wisconsin, and Ohio had never heard anything like this before in his life. We tried not to think about it and made sure all the doors on our house were locked before driving off to Fremont. Years later now, I am visiting your website and listening to sound clips of Bigfoot. And one made my heart stop, it was the exact same scream we heard so long ago," the report states.
The witness later said there were stories from friends who hunted about the sounds following them through the area and that this sound occurred at approximately 5 or 6 a.m.
The witness and his father were later questioned and the father explained he had heard plenty of outdoor animal noises before in his life, but never one like he heard that morning and certainly none that caused the response this one did from the dogs in the area.
Marc said the creatures are family-oriented, with reports of adults and juveniles, intelligent and very advanced and do not want to be discovered. When asked why no bones of the creatures had been found, Marc explained it was his belief they had been found, just misidentified. Marc showed the group at the Rotary Club various pictures of other evidence and displayed a copy of a lower mandible of a Gigantopithecus, an extinct genus of ape, that some people believe is closely related to the Bigfoot.
As for this area, Marc said Ohio is one of the top sites to have sightings, which shows the creatures are nomadic in nature, considering the sightings across the country which used to be focused in the northwest corner in states such as Washington and Oregon.
"I've had some very weird reports at this part of the state in the winter," Marc said.
The creatures are opportunistic, he said, and with the very rich soil in the area for agriculture and the high deer population, this area is high in food sources for a creature of Bigfoot's size. As for the lack of evidence, however, Marc said it has more to do with the fear of being discovered and possibly harmed.
"The sightings don't last long. It's not like they stand around and 'Let's hold hands,' or something. They're more scared of us than we are of them," Marc said.
For anyone who is concerned about seeing Bigfoot, Marc said that person should not be afraid to come out and talk about it. He said to be prepared if you do see one, though, because it's a shock.
"It's intimidating. Trust me, you better have something to hold onto, because your legs will turn to rubber real quick," Marc said.
Marc also advised not to shoot at the creature, although there are some groups dedicated to hunting it.
"Don't ever be aggressive toward them because they'll be aggressive back," Marc explained.
For anyone who would like more information on the
Ohio Bigfoot Organization
or on Bigfoot in general, contact the Lorain County Parks District, Columbia Reservation, at 440-236-3254. Marc said there is an upcoming program in September where he will speak. Also, for anyone who may have information on a possible sighting, contact Marc by e-mailing him at madbigfoot@aol.com. -
reviewtimes
**********
Follow Up on a Recent Nessie Sighting
....I have been to Loch Ness and visited their shop to have a chat with them about their experience. Firstly, they said the Inverness Courier article was an accurate enough account of what they had seen. I then asked them if there was a possibility it could have been a boat or some other familiar vessel seen on the loch to which they replied no.
Both witnesses came across as people who thought they had genuinely seen something and were not practical jokers or liars. They also rejected with a sigh the accusations levelled at them by anonymous comments on the Courier website that it was the tourist season and so it was time to put out some lies to boost trade. I quite agree with them, it is a nonsensical and libellous thing to say and unfortunately whenever a sighting is claimed from March onwards, this tired excuse is wheeled out by cynical observers. However, I did buy some stuff in their store and before anyone plays that cynic card, I was intending to buy some food for the drive home and theirs was the most convenient place to stop! -
continue reading at Follow Up on a Recent Nessie Sighting
**********
Yeah...it's a badger
After capturing the attention of thousands worldwide, an Alexandria roadkill mystery could be solved.
Rumors and speculation about mysterious roadkill could end soon after a retired biology professor examined the carcass Tuesday morning.
"I wouldn't be concerned that it's some kind of alien, imported species or anything like that. It has all the characteristics it needs to be a badger," retired Professor Emeritus from the University of Minnesota - Morris, Dave Hoppe said.
The animal with only a few tufts of hair and five long claws on its front paws was found on Highway 86 in Douglas County last week.
After a Wednesday KSAX report, news of the curious creature took off, capturing the imaginations of people worldwide and interest from dozens of media outlets and TV stations. Guesses ranged from a badger, to a skunk, a wolverine, a foreign dog, a wolf, a genetic mutation or even proof of the mythical chupacabra.
The creature was moved to the Glenwood Department of Natural Resources office for further examination and officials soon said they thought it was a badger, but couldn't be positive.
KSAX contacted Hoppe, who designed and taught classes on vertebrate classification while at U.M.M., and visited the Glenwood office Tuesday to examine the carcass and give his expert opinion.
Hoppee measured the size of the animal in relation to its tail, and examined its teeth, claws and legs, and said he's 95 percent sure it's a young badger, but said it's more difficult to know how it got to it's current, hairless condition.
"If you've got some fully formed hair, it's more likely that the rest of the hair was there and fell out, than that just in a few places, a fully formed patch would grow. That's why I like the mange hypothesis," Hoppe said.
Hoppe said the large amount of parasites likely contributed to the animal's hair loss and it's lighter color could be due to extended periods spent in the sun.
"It's probably emaciated. It hasn't had a good meal in a long time. So, I thinks that's part of the misshapen (carcass)."
Hoppe could not rule out deformities or abnormalities with the creature and said it's no surprise that it's gained so much interest.
"We're impressed with the freaks of nature," he said. "I've got a shelf over at UMM that has all kinds of different freaks that people have brought in over the years; a two-headed pig, a two-headed turtle, a snake with no scales ... The interest people have in that which might be abnormal is normal in itself."
D.N.R. officials said they don't have any further plans of examining the carcass, eliminating the likelihood of any D.N.A testing, but that they'll keep part of the jaw bone for future reference. -
ksax
Spirit Rescue International™
Providing no-cost professional spiritual help, personal support and guidance
Take the first step towards genuine peace of mind
The Spirit Rescue International™ Haunted Help Forum
*Join Our Group On Facebook*
Join Eric Altman and Lon Strickler each Sunday at 10 PM ET as we go
Beyond the Edge!
ANOMALIST BOOKS
Works on maverick science, unexplained mysteries, unorthodox theories, strange talents, and unexpected discoveries. Please check out their excellent and diverse catalog
Become a fan of 'Phantoms and Monsters' at Facebook
"The latest news from beyond the mainstream"
Join Ben & Aaron for their weekly podcasts!
Check out Mysterious Universe Plus+ all access format!
Astral Perceptions - Discussing ultraterrestrial and multidimensional phenomena and the proficiency of remote viewing

Click here to check out Stan's most recent book!
Join the
The Social - Paranormal Network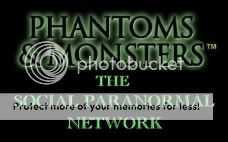 A NETWORK OF INVESTIGATORS, ENTHUSIASTS AND THOSE SEEKING THE TRUTH
THROUGH PARANORMAL EDUCATION AND DISCUSSION
Need an unique special occasion or business gift?
(410) 241-5974

Amazing technology that allows us to print almost anything in light!
Click to order John Ventre's new book
Phantoms and Monsters
Now Available on Kindle
Labels: bigfoot, cryptid, cryptozoology, Loch Ness Monster, Ohio
Have you had a close encounter or witnessed something unusual? Send us an email